PVE-EX Electrohydraulic Actuators feature cast iron enclosure.
Press Release Summary: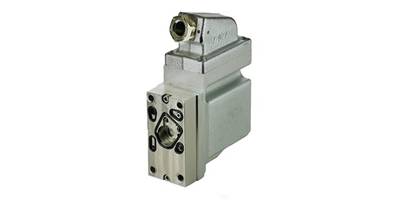 Meeting ATEX and IECEx standards, PVE-EX Electrohydraulic Actuators is suitable for in underground mining applications and oil and gas markets. These units use spool position feedback control signal for closing PVG valve main spool position. Units are designed with built-in safeguards and uses flame-proof protection method
---
Original Press Release:
Danfoss Power Solutions Announces New Explosion Proof PVE-EX Electrohydraulic Actuator
PVE-EX series actuators are certified for use in explosive atmospheres and incorporate closed loop spool position control and event monitoring technology for reliable control, making them an ideal solution for mining and the offshore oil and gas market.
Approved and certified according to ATEX and IECEx standards, the PVE-EX enables the use of PVG valves in harsh environments with explosive atmospheres. Designed with a cast iron enclosure, the PVE-EX protects the interior connectors and embedded electronics, while a protective coating on the exterior provides superior corrosion protection.
The PVE-EX ex db protection variant uses a flame-proof protection method, which is crucial for use in underground mining applications and oil & gas markets.
"The design of the PVE-EX is advantageous to OEM customers seeking to achieve the required regulatory approvals governing the oil and gas market and underground mining," said Knud Meldgaard Jensen, Global Product Marketing Manager for Danfoss Power Solutions. "For example, the Ex db is designed to enable easy inspection of the flame paths. In addition, this design solution enables the cable and cable harness to be changed out quickly, minimizing downtime."
Safe and predictable actuation
Standard for all Danfoss PVE actuators is the use of a spool position feedback control signal to close the loop on the PVG valve main spool position, ensuring it is in the right position at a given input signal. This ensures high precision of the valve flow with high predictability which leads to improved machine performance and productivity as well as reduced operator fatigue. Danfoss PVE actuators also come with built-in safeguards such as event monitoring and an optional output for spool direction.
Modular build concept
The PVE-EX is the newest addition to the Danfoss Power Solutions modular design concept, giving machine designers the freedom to configure the valve to meet the exact demands of the application and installation requirements.
The top cover on the PVE-EX can face forward or backward for easier installation and thus reduce complexity within the wiring harness. The modular design concept allows the PVE-EX to be easily installed into existing solutions with a cable connection through protected screw terminals. An industry standard 0-10V control signal variant is available which compliments the standard portfolio of ratio metric signal actuators.
The entire portfolio of Danfoss PVE actuators is based on 40 years of field experience and is designed to work seamlessly with Danfoss proportional valves to give OEMs increased flexibility with multiple configuration options in order to leverage the full potential of their machines.
Certifications
PVE-EX actuators are certified for use in oil and gas applications (group IIB) as well as underground mining (group I) including:
Mining Products Safety Approval and Certification Center (MA)(China)
European Regulatory Framework for Manufacture, Installation and Use of Equipment in Explosive Atmospheres (ATEX)(EU)
International Electrotechnical Commission Standards Relating to Equipment for Use in Explosive Atmospheres (IECEx)(EU)
Mine Safety and Health Administration (MSHA)(U.S.)
Danfoss engineers technologies that enable the world of tomorrow to do more with less. We meet the growing need for infrastructure, food supply, energy efficiency and climate-friendly solutions. Our products and services are used in areas such as refrigeration, air conditioning, heating, motor control and mobile machinery. We are also active in the field of renewable energy as well as district heating infrastructure for cities and urban communities. Our innovative engineering dates back to 1933 and today Danfoss is a world-leader, employing 24,000 employees and serving customers in more than 100 countries. We are still privately held by the founding family. Read more about us at www.danfoss.com.
Related