Miscellaneous Fabrics and Cloths
PVC Fabrics feature applied non-slip surface.
Press Release Summary: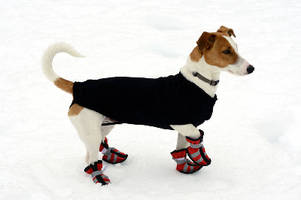 Constructed with diamond embossed pattern, Mega Grip™ is best for applications which have flexibility or require stretch, whereas Mega Grip II™ features asphalt pattern and was developed for applications that have firm surface. Both abrasion-resistant, expanded PVC fabrics have non-slip surface that makes them suitable for wheelchair cushion bottoms, camping/hiking equipment, motorcycle and watercraft seating, dog booties and pet travel gear, shoulder straps, and glove palms.
---
Original Press Release:

Introducing Mega Grip(TM) Non-Slip Fabrics from Top Value Fabrics



CARMEL, Indiana  - Top Value Fabrics has introduced two new Mega Grip™ non-slip fabrics for industrial applications. These advanced non-skid, abrasion resistant fabrics are ideal for sewing or welding a variety of durable products. Both fabrics in the line, Mega Grip™ and Mega Grip II™, are expanded PVC with an applied high quality non-slip surface.



Applications for Mega Grip™ and Mega Grip II™ fabrics include medical applications such as wheelchair cushion bottoms, sporting uses such as equestrian clothing, camping and hiking equipment, motorcycle and watercraft seating systems, dog booties and pet travel gear, shoulder straps and glove palms, and panels for bags, cases and luggage.



Mega Grip™ is constructed with a diamond embossed pattern and is best for applications which have flexibility or require stretch, whereas Mega Grip II™ features an asphalt pattern and was developed to perform for applications that have a firm surface. Together, the Mega Grip™ fabrics raise the industry standard for abrasion resistant fabrics.



About Top Value Fabrics

Top Value Fabrics is a leading supplier of Industrial Textiles, Print Media and Recreational Fabrics with an over 40-year history of success in the textile industry. The company has a nationwide network of offices, distribution centers and shipping locations with expertise in providing world-class solutions and service for a wide variety of industries. To learn more, visit TopValueFabrics.com



Contact:

Karen Stuerenberg, Marketing Director

Top Value Fabrics

karenstuerenberg@tvfinc.com

317.249.8735