Push-Through Blister Lidding with AOF is child-resistant.
Press Release Summary: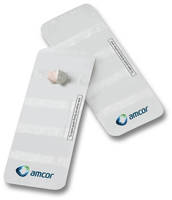 Complementing pharmaceutical packaging products, blister lidding with Amcor Opening Feature (AOF) promotes accessibility to blister contents via targeted, push-through motion while maintaining senior friendliness, child resistance, and sustainability. Latter is promoted by allowing use of 2-ply structure, while package size and weight are reduced since peel tabs are not required. Design also maintains product stability without any compromise to barrier layer or seal integrity of package.
---
Original Press Release:

Amcor Flexibles Launches its Amcor Opening Feature (AOF) on Child-Resistant Push-Through Blister Lidding



Amcor Flexibles introduces its patented Amcor Opening Feature (AOF) for child-resistant blister lidding to complement its diverse product portfolio in Pharmaceutical packaging.  This technology has been readily available on pouch stock and stick packs for the Pharmaceutical market, and the first products using AOF on blister lidding were commercially launched in December 2014.



With AOF, blister contents are easily accessed with a targeted push-through motion rather than the traditional peel or peel-push method often required for child resistance. The result is improvements in senior-friendliness, child-resistance, and sustainability.



AOF allows the use of a 2-ply structure compared to a standard 3-ply, which is only the start of the sustainability benefit of AOF Blister Lidding.  Because peel tabs are not required, total package sizes can be reduced up to 40% versus traditional peel-push and peelable blister cards.  Even with this drastic reduction in material usage and weight, AOF maintains product stability with no compromise to the barrier layer or the seal integrity of the package.



The senior-friendly qualities and child-resistance of AOF Blister Lidding were confirmed through an independent study in accordance with the requirements of 16 CFR Part 1700.  Blisters were produced using AOF blister lidding and the package met the test requirements of F=1 (only two children out of 50 were able to access one cavity).  In addition, the Senior Use Effectiveness (SAUE) score was an extraordinary 98% compared to the normal target minimum of 90%.



The product contact layer remains the same as existing Amcor blister lidding products, which allows current customers to adopt the new technology with streamlined testing protocol.  Amcor's Opening Feature for blister lidding results in a package that maintains product protection, is child-resistant & senior-friendly, and has a reduced environmental footprint.



About Amcor Flexibles Europe & Americas

With 68 plants in 21 countries, Amcor Flexibles Europe & Americas, a division of Amcor, is a market leader and the world's largest supplier of flexible packaging. We deliver innovative packaging solutions and provide enhanced quality products for the food, beverage, pharma, personal care, medical and industrial markets. Its award winning approach towards sustainability makes Amcor Flexibles Europe & Americas the preferred partner for customers looking for responsible packaging solutions.  For more information visit www.amcor.com.



About Amcor

Amcor (ASX: AMC) applies art and science to create responsible packaging solutions that enhance the products people use in everyday life.  With global leadership positions in flexibles and rigid plastics packaging, Amcor continually innovates to find new and better ways to protect essential products such as food, beverage, pharmaceutical, medical, personal and household goods. Headquartered in Melbourne, Australia, Amcor employs 27,000 people worldwide and has operations across 43 countries. For more information, visit www.amcor.com.



For further information please contact:

Press Contact:

Abbie Ansburg

Marketing Communications Manager

Amcor Flexibles Europe & Americas

Tel. + 1 847 573 6784

Email: abbie.ansburg@amcor.com



Kyung Park

Product Manager, Pharmaceutical

Amcor Flexibles Europe & Americas

Tel: +1 847 918 4270

Email: kyung.park@amcor.com

More from Chemicals & Gases