Purification Systems keep dielectric insulating oils clean.
Press Release Summary: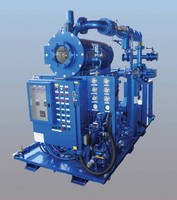 By employing single-pass HVTOPS and multi-pass DOPS Systems, oil in transformers and circuit breakers can be kept clean and dry. Systems can remove 100% of free water and 99% of dissolved water to achieve overall moisture content of <10 ppm. Additionally, dissolved air and entrained gases are removed to <0.25% of overall content. Available in sizes from 5–44 gpm, systems can also remove particulate contamination down to 1 micron and can remove acids to achieve .05 mg KOH/gm or lower.
---
Original Press Release:

Transformer Insulating Oils are Purified by New Systems



Boerne, TX – Oil Filtration Systems has announced two new series of oil purification equipment to remove impurities from dielectric insulating oils. By employing these systems, oils in either transformers or circuit breakers can be kept clean and dry, which is essential in achieving optimal dielectric strength and insulating performance. This equipment will improve dielectric strength to meet or exceed 40 Kva per ASTM D877 as well as improve interfacial tension to meet or exceed 40 dynes/cm per ASTM D971.



These newly-announced purification systems, HVTOPS and DOPS, can remove 100% of free water and 99% of dissolved water to achieve an overall moisture content of  < 10 ppm. Additionally, dissolved air and entrained gases are removed to < 0.25% of overall content. The systems also remove all carbon and particulate contamination down to 1-micron, and can remove acids to achieve .05 mg KOH/gm or lower.



High Vacuum Transformer Oil Purification Systems (HVTOPS), are single pass systems intended for quick turnarounds. Oil is circulated inside a de-energized transformer or tanker truck to quickly remove water, entrained gases and particulates. Paper windings are dried by pulling a deep vacuum on empty transformers.



Dielectric Oil Purifier Systems (DOPS) are designed to remove all impurities in multi-pass. Unlike HVTOPS equipment, they do not pull a deep vacuum on empty transformers for dry out. Otherwise, they function the same as HVTOPS.



Both types of systems are commonly employed by substation maintenance contractors and utilities during routine maintenance of transformers and circuit breakers. They are effective for use on paraffin-based, naphtha-based, or silicone-based insulating oils, as well as Envirotemp™ FR3™ insulating oil. A variety of sizes are available, from 5GPM (1135 LPH) units to 44 GPM (10,000 LPH) units.



Oil Filtration Systems maintains a rental fleet of transformer oil purification units ready for emergency mobilization anywhere in the world.                                                              



Oil Filtration Systems (OFS) manufactures purification systems for a wide range of industrial oils and fuels. By preventing the unnecessary disposal of millions of gallons of oil and fuels every year, OFS plays a significant role in helping to protect the environment. The company designs and manufacturers an extensive variety of systems to remove contaminants such as water, particulate, entrained gas, and acid from industrial fluids. OFS is located at 111 Parkway Drive, Boerne, Texas 78006. Telephone: 800-449-0262  FAX: 830-816-3331  Web: www.oilfiltrationsystems.com. Oil Filtration Systems is a Clark-Reliance Company.





Bruce Blake

(216) 595-2400

brb@rhblake.com



More from Architectural & Civil Engineering Products