Purdue University Team Takes its T.R.A.S.H. to Germany: Engineering Students Win Trip to Hannover Messe in Xplore New Automation Competition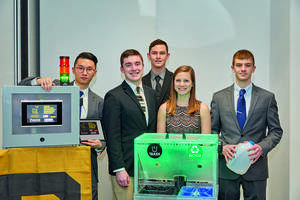 A team of engineering technology students from Purdue University's Polytechnic Institute will take its "T.R.A.S.H." to Germany for the second month in a row. During a trip in March, the team won first place in an international automation competition for designing and building an automated trash collection system. The grand prize for their victory: a trip to Hannover Messe, the world's largest industrial trade show, held April 23-27 in Hanover, Germany.
"T.R.A.S.H." - short for Trash Recycling Automation Sanitation Humanity - modernizes the current trash collection system by implementing an automatic trash and recycling can. It uses remote monitoring so that maintenance personnel know when a can needs to be replaced.
The project won first place in the Environment category of Phoenix Contact's xplore New Automation Award 2018. Phoenix Contact, an international manufacturer of industrial automation components, hosts the international technology and education competition every three years. The program encourages high school and college students to design and build a working automation system in one of four categories: Smart Factory, Environment, Urban Infrastructure, and Recreation.
Phoenix Contact received 136 applications from around the world, and 98 projects were implemented. Twenty-four projects from 12 countries qualified for the final round. The qualifying teams presented their projects to a panel of judges in Germany in mid-March. Two teams from Germany and one from China captured first place in the other three categories. Each winning team will present its project in Hannover Messe Hall 8, which focuses on Industrie 4.0.
A team from Walker Career Center (WCC) in Indianapolis placed second in the Recreation category. The WCC team created "Carrot Chaos," an interactive maze that allows a player to navigate using a PLC-controlled vehicle. A team from Harrisburg University in Pennsylvania also traveled to Germany for the final round to present a project called "Augmented Reality in Smart Factories."
Phoenix Contact provided each team with approximately $3,700 worth of automation equipment for use in the project. Phoenix Contact has sponsored the xplore competition since 2008.
About Phoenix Contact
Phoenix Contact develops and manufactures industrial electrical and electronic technology products that power, protect, connect, and automate systems and equipment for a wide range of industries. Phoenix Contact GmbH & Co. KG, Blomberg, Germany, operates 50 international subsidiaries, including Phoenix Contact USA in Middletown, Pa.
For more information about Phoenix Contact or its products, visit www.phoenixcontact.com, call technical service at 800-322-3225, or email info@phoenixcon.com.
More from Controls & Controllers