PUR Binder automates in- and off-line digital book production.
Press Release Summary: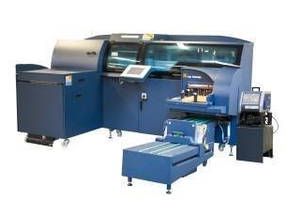 Combining automation, knife-creasing technology, and completely sealed and integrated polyurethane reactive (PUR) gluing system, BB3202 PUR-C produces soft- and hard-cover, perfect-bound books from 3.94 x 3.94 in. to 15.15 x 12.6 in. with thicknesses from 0.04–2.36 in. at rated to 350 books/hr. Gluing system remains fully closed while dispensing precise amount of PUR glue to milled book block, preventing vapors from escaping and air from compromising remaining adhesive.
---
Original Press Release:

C.P. Bourg Announces PUR Binder that Automates Digital Color Book Production In-Line and Off-Line



• New Bourg BB3202 PUR-C binds books in-line with a digital press or off-line with Bourg BSF Sheet Feeders to produce short-run photo books and other printed color materials on demand.

• Compact system's versatility, cost and user-friendly operation appeal to a broad spectrum of print providers seeking to mass-produce digitally printed "books of one."

• Xerox demonstrates the new BB3202 PUR-C binder operating in-line with the Xerox iGen(TM) 150 Press at Graph Expo 2014, booth #1213.



McCormick Place, Chicago -- C.P. Bourg, the company that pioneered in-line digital binding and finishing, today announced the first PUR perfect binder designed for automated in-line and off-line digital production of soft- and hard-cover photobooks, catalogs and other printed color materials.



The compact Bourg BB3202 PUR-C binder will be unveiled at Graph Expo 2014 in Chicago September 28-October 1. Xerox will demonstrate an in-line version of the new binder operating with the Xerox iGen™ 150 Press in booth #1213.



The latest product based on C.P. Bourg's highly successful BB3002 perfect binder, the Bourg BB3202 PUR-C combines proven features and innovative automation with a highly efficient, compact and user-friendly polyurethane reactive (PUR) gluing system that is completely sealed and fully integrated with the binder's operation.



"As the 'Super Glue' for printed paper, PUR adhesive excels at binding color pages printed with digital toners and inks -- but PUR is difficult to work with, and until recently it was cost-prohibitive. This explains why PUR perfect binders until now have been either labor-intensive standalone systems, or inflexible multi-million-dollar assembly lines," notes James Tressler, Director of Marketing for C.P. Bourg.



"Combining C.P. Bourg's highly successful BB3002 perfect binder and innovative BB3202 autoloader technologies with precision Nordson PUR dispensing in a compact package makes the BB3202 PUR-C a productive, affordable and versatile perfect binder -- and one that makes it easy to automate the production of photo books and other bound color materials," says Mr. Tressler.



Advanced Gluing in a Compact Package



The Bourg BB3202 PUR-C features an innovative Nordson gluing system that remains fully closed while dispensing the perfect amount of PUR glue to the milled book block. Isolating the binding process from the work environment prevents vapors from escaping and air from compromising the remaining adhesive. An automatic cleaning cycle makes it easy for the operator to purge old glue just once at startup and quickly resume production.



In addition to the savings achieved by eliminating waste, the efficiency of the BB3202 PUR-C sealed spine and side gluing system reduces operator costs and production time, dramatically reduces the release of harmful volatile organic compounds (VOCs) into the air, and eliminates the need for an on-board venting system -- key advantages for print providers of any size.



The new binder produces perfect-bound volumes from monochrome handbooks and manuals to full-color catalogs, family genealogies and personal photo books at a peak rate of 350 books per hour, depending on press speed, from digitally-printed content and covers. Final dimensions of books produced by the Bourg BB3202 PUR-C can range in size from 100 x 100 mm (3.94 x 3.94 in) up to a maximum 385 x 320 mm (15.15 x 12.6 in), and in thickness from 1 to 60 mm (0.04 to 2.36 in) -- the largest of any in-line binder currently available.



Like all BB3002-series binders, the new BB3202 PUR-C automatically adapts to the thickness of each job to process each book most productively, and sets jogging, power milling and notching, gluing, scoring and suction cover-feeding under program control. The BB3202 PUR-C can also make 13 positive or negative high-quality creases utilizing a knife-creasing technology that offers superior results and greater flexibility compared to conventional wheel-scoring, including the ability to create winged book jackets.



A proven barcode system available as an option for any BB3202 PUR-C configuration incorporates both book content and cover sensors to ensure accurate cover-to-content matching. Job integrity check and automatic communication with CMT trimmers makes it possible to track books through binding and trimming and to track production statistics to improve workflow efficiency.



"Although the BB3202 PUR-C is a single-clamp binder, in a complex and fast-paced digital printing environment it offers a level of productivity and process integrity that can exceed operator-controlled multi-clamp binders to bind more books in a given amount of time while preventing costly errors," Mr. Tressler adds.



Configuration Flexibility



The BB3202 PUR-C can be configured in-line to operate with a digital press directly, or with a single or new tandem Bourg BSF Sheet Feeder configuration to achieve C.P. Bourg's unique dual-mode in-line/off-line production functionality.



It also can be set up for fully automated off-line production with the addition of single or tandem high-speed Bourg BSF Sheet Feeders; or as a manually-fed standalone binder. The ability to hand-feed a BB3202 binder in any configuration allows users to produce short-run jobs on demand -- including book blocks produced from off-line workflows -- to satisfy immediate production needs without interrupting in-line job setups.



During off-line operation, any custom adjustments for jogging, milling, gluing, scoring and suction cover-feeding can be easily selected from a list of menu options on an operator-friendly touchscreen graphical user interface. In all modes, the binder adapts to the thickness of each job, enabling highly productive, automatic operation.



Whether operating in-line or off-line, the BB3202 PUR-C can be configured with the Bourg BPRF Perforating Rotating Folder option, which perforates, rotates and folds sheets into stacked signatures prior to binding. The bound books can be sent to a reception module for manual removal and off-line trimming, or to a Challenge CMT-330 or CMT-130 Trimmer for automatic three-sided trimming.



BB3202 PUR-C Demonstration at Graph Expo 2014



At Graph Expo 2014, Xerox will demonstrate super-efficient in-line book manufacturing with the iGen 150 Press connected to the new BB3202 PUR-C binder via a Bourg BSF Sheet Feeder and a Bourg BPRF Perforating Rotating Folder.



The iGen 150 is one of the most productive digital cut-sheet color presses on the market, combining fast production time and repeatable quality.



In the demonstration, 9 x 12-inch (228.6 x 304.8 mm) sheets printed 4-up double-sided by the press pass through the dual-mode Bourg BSF Sheet Feeder bypass to the Bourg BPRF Perforating Rotating Folder.



The 9 x 12-inch sheets are perforated, rotated and folded by the Bourg BPRF into signatures and sent to the BB3202 PUR-C. When the last signature is accumulated, the BB3202 PUR-C measures the spine and binds the book according to pre-set instructions for jogging, milling, gluing and cover application. The bound book is then sent to a Challenge CMT-330 trimmer for three-sided trimming.



"We are excited to be partnering with Xerox at Graph Expo 2014 to demonstrate the fully automated in-line version of the BB3202 PUR-C, our latest addition to the Bourg BB3002 perfect binder family. The productivity, quality and affordability of the BB3202 PUR-C perfectly complements the impressive production capabilities of the Xerox iGen 150 press in a well-appointed book manufacturing line," remarks Mr. Tressler.



The new Bourg BB3202 PUR-C perfect binder is available from C.P. Bourg and through the company's worldwide dealer network.



C.P. Bourg -- Your Partner in Print Finishing

For more than 50 years, C.P. Bourg has designed and delivered innovative binding and finishing solutions to meet the needs of the global printing and finishing industry. C.P. Bourg's reputation -- as the world's leading technology developer and supplier of in-line and near-line/off-line document feeding, binding and finishing equipment for the broad spectrum of traditional and digital printing environments -- is built on a history of Mr. Christian Pierre Bourg's achievement and continuous commitment to quality, innovation and efficiency. This commitment has led to privileged relationships with a growing list of digital press manufacturers and finishing product suppliers, and with tens of thousands of customers worldwide every day who rely on C.P. Bourg equipment to turn print on paper into quality finished products.



For more information visit the company's newly redesigned website, www.cpbourg.com.



Contacts:

North America:

John Hebert / Hebert Communications

john@hebertcomms.com



Rest of World:

Cathy Vaessen / C.P. Bourg s.a.

c_vaessen@cpbourg.com

More from Electrical Equipment & Systems