Punch Press Tooling performs 90° bends.
Press Release Summary: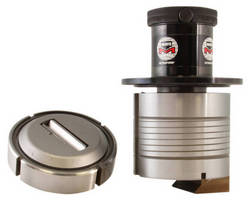 Suited for punch presses with upforming capabilities and stroke control, VariBend™ bends sheet metal tabs at any angle up to 90° and eliminates secondary operations performed on press brake. Bending angle is adjustable in 1° increments, and this flexible, multi-purpose tool can produce form heights of ~0.300–0.700 in. Programmed as normal forming tool (regular forming or upforming tool), product operates with CNC punch press accuracy and comes in various tooling styles/station sizes.
---
Original Press Release:

Mate's New VariBend(TM) Tooling Performs 90° Bends on a Punch Press - Eliminates Secondary Bending Operations



Anoka, Minnesota: Mate Precision Tooling's new VariBend™ is a flexible, multi-purpose tool that bends sheet metal tabs at any angle up to 90°. It eliminates time-consuming secondary operations usually performed on a press brake.



VariBend's bending angle is adjustable in 1° increments and will handle the specific material types and thickness for which it was designed. VariBend will produce form heights of approximately 0.300 inch to 0.700 inch (7.60mm -17.75mm). Programmed as a normal forming tool (regular forming or as an upforming tool), VariBend operates with CNC punch press accuracy. With each machine stroke, VariBend's upper forming tool meets the sheet metal surface as the lower die moves up to create the desired bend angle. It's that simple and with little or no sheet marking.



Mate's VariBend is well-suited for punch presses with upforming capabilities and especially machines with stroke control. These installations increase accuracy of the formed (bent) sheet material while minimizing sheet marking. For machines without upforming capabilities or stroke control, the formed tab height may be limited by the height of the turret gap of the user's machine. For thick turret machines without stroke control, Mate's Ultraform® holder can be used for length adjustment.



Available in many tooling styles and station sizes including: Thick Turret B through E stations, Trumpf Style, Size 2, Murata Wiedemann Marathon® and 114 Style, D through L Stations, Thin Turret, 1-1/4 inch and 3-1/2 inch Stations, and Nova, D through G Stations.



VariBend is another great Mate tooling solution for fabricators looking to streamline operations to reduce costs and increase efficiency. It works well with Mate's EasyBend™ tooling for bending smaller parts, with SheetMarker™ to indicate bends or locations and with EasySnap™ for corners and nesting of very small parts.



See the Mate VariBend operate at: http://www.mate.com/en/fabrication-solutions/innovative-solutions/eliminate-secondary-bending-operations-with-varibend/



For more information, in USA and Canada call 1-800-328-4492. Outside USA and Canada, call 1-763-421-0230.



MATE PRECISION TOOLING, 1295 Lund Boulevard, Anoka, Minnesota 55303.  USA and Canada, Fax 1-800-541-0285. Outside USA and Canada, Fax 1-763-421-0285. 

Website: www.mate.com  

Email: marketing@mate.com

More from Material Handling & Storage