Pumptec Launches New X-Series Pump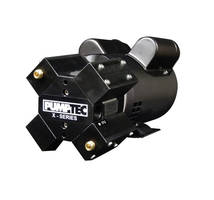 Leading industry manufacturer announces higher flow pump design to expand reach beyond commercial cleaning
Anoka, MN (March 19, 2018) - Pumptec, Inc., top pump manufacturer and leading resource to portable cleaning equipment manufacturers in the US, is pleased to announce the release of the X-Series. A patented Quadraplex pump line capable of flow ranges from 4-10 GPM.
The new design was engineered by Steve Babcock, Pumptec's VP of engineering. Steve was inspired by a design that was originally created by Hypro's founder, Ernest E. Cook and passed on to his son, James E. Cook, the Owner and Chairman of Pumptec.
"Steve is an incredibly creative and talented individual according to Jay Donlin, Pumptec's General Manager. He was able to take an old, rusty, iron, non-functioning prototype and turn it into an amazing line of pumps that will contribute to our company's growth for many years to come".
Pumptec pumps are high performance electric pumps that are compact, efficient, rugged and chemical resistant. They are easy to maintain and built to last. Pumptec specializes in custom drop in assemblies that are designed to the customer's specification. With this new product development, Pumptec plans to market the X-Series to several new industries including; agriculture, turf, lawn, fire and pest control.
Donlin adds; "this new pump design opens up a world of opportunities for us. It allows us to leverage our impeccable reputation in the commercial cleaning industry to serve many other industries and applications that can also benefit from of our high efficiency pumps."
For more information, visit pumptec.com
Pumptec is a U.S.A, Minnesota based company started in 1988 with a simple philosophy in mind: build durable, high-quality pumps that work as hard as our customers.
Related