Pump Tubing brings security to harsh chemical processes.
Press Release Summary: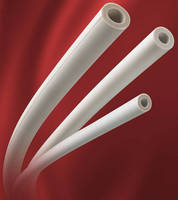 Supplied with IDs from 1.6-12.7 mm and wall thicknesses from 1.6-4.8 mm, GORE High Resilience Tubing: Style 400 consists of expanded PTFE multi-layer tubing with Viton® filler and maintains stable flow rate for thousands of hours while pumping aggressive chemicals. Consistent flow rates, at continuous pressures of 60 psi, are achieved throughout tubing lifetime. Expanded PTFE reinforcement also lends to burst resistance, protecting against aggressive fluids release to environment.
---
Original Press Release:

New Pump Tubing Brings Security to Challenging Chemical Processes



New from peristaltic pump specialists Watson-Marlow Pumps Group is a high performance, long life tubing which is ideally suited harsh chemical applications. The GORE High Resilience Tubing: Style 400 is expanded PTFE multi-layer tubing featuring high performance Viton® filler that is able to maintain a stable flow rate for thousands of hours while pumping aggressive chemicals. This construction makes this new tubing suitable for a range of aggressive chemicals such as concentrated acids like Nitric and Sulfuric as well as aromatic hydrocarbons like Toluene and Xylene.

At continuous pressures of 60 psi, consistent flow rates are achieved throughout the lifetime of Style 400 tubing. While chemicals will attack most other types of tubing, the secret behind the resilience of Style 400 is Viton® GF-600S, a peroxide-cured fluoroelastomer based on DuPont advanced polymer architecture. Performance testing shows that Style 400 tubing offers greater than 50 times longer life than conventional non-reinforced extruded Viton or Fluorel tubes.

Thanks to its expanded PTFE reinforcement, the new tubing also offers superior burst resistance to protect against aggressive fluids release to the environment.

Applicable to a host of applications including hydrocarbons pumping in the nuclear industry, Nitric acid in dairies, Toluene pumping in automotive screw lock application, solvent based inks, hydrocarbon based polymer dosing and a number of other sectors using chemicals will also benefit from this new innovation.

Style 400 tubing is currently available with internal diameters ranging from 1.6 up to 12.7mm, with wall thickness from 1.6 up to 4.8mm to provide reliable metering of aggressive chemicals and increased process consistency.

The introduction of the durable and dependable Style 400 tubing now makes the peristaltic pump the natural choice for aggressive chemicals. Whereas conventional pumps such as progressive cavity or diaphragm types suffer attack when pumping chemicals like nitric or sulphuric acid, or aromatic hydrocarbons such as toluene, the principle of peristaltic pump operation dictates that the fluid only touches the bore of the tube. With no valves or seals to block or corrode and just the simple maintenance of occasionally changing a tubing element, Watson-Marlow adds value to all pumping processes through significantly reduced maintenance, repair and calibration.

About The Watson-Marlow Pumps Group
The Watson-Marlow Pumps Group is the world leader in peristaltic and sinusoidal pumping solutions. For over 50 years its Watson-Marlow, Bredel, Alitea, Flexicon, and MasoSine brands have been solving fluid handling problems using state-of-the-art pumping technology.

For more information about Watson-Marlow, call (800) 282-8823, email:
support@wmpg.us, or visit our website at www.watson-marlow.com.

Attn. publishers: Please refer all sales inquiries to Doreen Griffiths, Marketing Communications Manager,
Watson-Marlow Pumps Group
Phone: 978-988-5309; Email: doreen.griffiths@wmpg.com

More from Computer Hardware & Peripherals