Pump supplies significant power in compact arrangement.
Press Release Summary: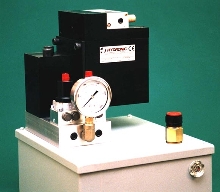 Compressed air-operated, reciprocating P923 Series supplies 1 1/2 gpm flow and 3,000 psi pressure directly to D03 manifold through 2-bolt interface. Compact size of finished power unit reduces required plant floor space, number of components, and number of leakage points. Combined pumps supply power on demand, useful in clamping and work-holding circuits, where high pressure is maintained for large portion of work cycle.
---
Original Press Release:
"Cubic Power Launched at IFPE 2002"

"The 'power in a box' concept leaps from miniature to real horsepower size at IFPE 2002. The unveiling of the P923 series by Hydronic Corporation puts one and a half gallons per minute and 3,000 psi directly onto your D03 manifold with its two bolt interface.

Rather than being restricted to the more traditional pressure generating tools, reciprocating pumps driven by compressed air have become the standard base for Hydronic power units. The innovation of manifold mounting the pumps, in place of screwed line connections, appeared at the last IFPE show with the miniature P901 series. The new range brings almost two horsepower in each of seven models covering flows up to 9 gpm and pressures up to 10,000 psi.

The sheer versatility of integrating pumps, valves and other modules together on the same manifold has many advantages. The size of the finished power unit is smaller, requiring less floor space in the customer's plant. The cost of the unit is less, both in components and labor. There are less leakage points and the unit has a more modern appearance.

Circuits calling for higher horsepowers are simply accomodated by extending the manifold and using two pumps, one for flow and one for pressure. A fast approach and high force system, as used in press tools or welding fixtures, would have the 9 gpm and the
5,000 psi pumps mounted side by side on the D03 manifold. They would operate together, combining their flows until the load increased significantly. At this point, the high flow unit would stop automatically and the high pressure unit to carry on up to its high pressure setting.

This 'power on demand' feature is a considerable benefit in clamping and workholding circuits where high pressure is maintained for a large portion of the work cycle. The mechanism of the pump will continue to move, slowly or quickly, depending on the open path available to the oil. When the workpiece is held
firmly, the pump stops and just maintains pressure. This means there is no energy being used, there is no noise, no heat build up, no wear and tear on parts and no degradation of the oil. Large heat sink reservoirs are not necessary and the cost is hterefore lower. When the signal is given to release the part
being clamped, the pump is allowed to function and actuate the cylinders.

More from Communication Systems & Equipment