Pulse Cutting Bandsaws promote workplace efficiency.
Press Release Summary: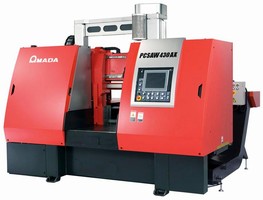 Single pulse cutting machines PCASW430AX and PCSAW530AX are designed to minimize problems such as noise, vibration, and cutting resistance for optimal efficiency in metal bandsawing. While PCASW430AX and PCSAW530AX, respectively, cut material sizes up to 16 and 21 in., both machines are optimized for reductions in cutting noise, kerf loss, and material waste to promote safe and efficient working environment.
---
Original Press Release:

Amada Pulse Cutting Bandsaw Machines Fully Lined Up "PCSAW430AX" and "PCSAW530AX" Launched



At the International Manufacturing Technology Show (IMTS) 2008 in Chicago, Amada Cutting
Technologies, Inc. (Los Angeles, California) has launched new bandsawing models "PCASW430AX" and "PCSAW530AX." Amada had developed their original revolutionary technology, DOUBLE PULSE CUTTING and embarked on a line of products, "PCSAW Series" in 2006. The addition of these two models completes the Pulse Cutting Bandsaw Machine Full-Lineup.

"PCSAW Series" were developed to eliminate inherent problem such as noise, vibrations, and cutting resistance thus producing the highest efficiency ever in metal bandsawing. Ever since Amada introduced a double pulse cutting machine, "PCSAW700" (cutting capacity: 28") and a single pulse machine, "PCSAW330" (cutting capacity: 13") at the IMTS2006, they had been working to enhance the line to answer the markets' requirements for a complete range of capacities.

The single pulse cutting machine, "PCASW430AX" is capable of cutting material size up to 16" and another single pulse machine, "PCSAW530AX" is capable of cutting up to 21". These two models were developed under the concept of "High-Cutting-Rates, Low-Cost, Earth-Friendly, and Safe and Efficient Working Environment." Amada has succeeded in making many improvements such as dramatically reduced cutting noise, kerf loss or material waste, just to name a few.

Further improvements of efficiency and productivity are now a reality by the introduction of the newly developed Amada carbide tipped bandsaw blade "AXCELA" at the IMTS2008.

For more information:
Toll Free: 800-877-4729 or E-mail: machines@amadabandsaw.com

Information on web:
http://www.amadabandsaw.com

About the company:
Amada Cutting Technologies, Inc. (ACT) was established in 1987 as part of Amada Group, one of the top 5 machine tool manufactures in the world, founded in 1946.