Pulling Elbows make wiring pulls at right angles.
Press Release Summary: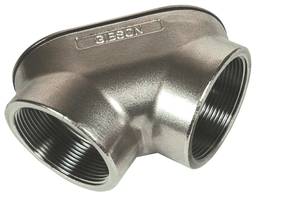 Manufactured in CF8M (316 SS), pulling elbows are designed for use with rigid conduit.These products, which make wiring pulls at 90° bends in conduit system, can assist in instances of sharp bends and allow straight pull in either direction. Each pulling elbow comes with Type 316 SS cover, neoprene gasket, and Type 316 SS screws.
---
Original Press Release:
Gibson Stainless is Introducing Pulling Elbows to its Product Line.
Pulling elbows are designed for use with rigid conduit to make wiring pulls at 90° bends in a conduit system. Pulling elbows can aid in instances of sharp bends and allow a straight pull in either direction.

Each pulling elbow is supplied complete with Type 316 SS cover, neoprene gasket, and Type 316 SS screws.

Gibson Stainless manufactures the pulling elbows in CF8M (316 SS) and they are 100% Made in USA.

Gibson Stainless & Specialty, Inc. is a leading provider of stainless steel conduit, fittings, and various other electrical products that are all 100% stainless steel. Our products are primarily used in food and beverage, refinery, petrochemical, and offshore/marine applications where stainless steel products are needed to provide extra defense against corrosive elements.

We pride ourselves on our first-rate customer service and high quality products.  All of our products are designed to meet and exceed standard electrical industry practices.  Many of our product lines carry UL listing and NEMA ratings, and most are 100% Made in the USA.  Maintaining a large inventory, we ship over 90% of its orders complete within 24 hours.

1-800-945-4316
sales@gibsonstainless.com
www.gibsonstainless.com