Pull Bar is suited for automatic arm systems.
Press Release Summary: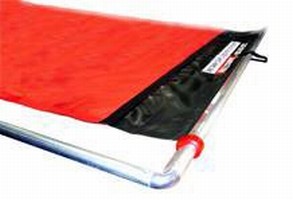 Made of extruded aluminum, Pulltarps Universal Pull Bar can accept arm tarp with conventional pocket at back or tarp that uses hem tube. It features groove for hem tube that prevents tarp from bunching at corners, while adding strength to pull bar. Product is offered with urethane bumpers that slide on to pull bar to keep tarp centered and provide better coverage of load.
---
Original Press Release:

Pulltarps Mfg. Announces New Universal Pull Bar Design for All Automatic Arm Systems



The new Pulltarps Universal Pull Bar is the latest technology from the leading innovator in truck tarp and tarping systems. This extruded aluminum design is lighter, stronger and incorporates a hem tube groove to attach the tarp to the pull bar. This extends tarp life and makes the tarp interchangeable with manual Pulltarps7 pull out type systems.

El Cajon, Ca, September 27, 2008 - Pulltarps Manufacturing announces an all new design for pull bars used on automatic arm systems. The new pull bar is a universal design that can accept an arm tarp with a conventional pocket at the back or a tarp that uses a hem tube. This interchangeability makes it easy to also convert existing Pulltarps7 pull out type systems to fully automatic electric arm systems.

Made of extruded aluminum, the Universal Pull Bar has a groove for the hem tube that prevents the tarp from bunching at the corners. This extends the life of the tarp. The hem tube groove also strengthens the pull bar for added durability. Urethane bumpers that slide on to the Universal Pull Bar are provided to keep the tarp centered and provide better coverage of the load.

For more information and photos visit http//:www.pulltarps.com/universalpullbar.htm

Mr. Lynn Chenowth, Owner, Pulltarps Mfg. said "The Universal Pull Bar is a great innovation." "It is stronger, lighter, helps the tarp last longer and cover better." "We will start shipping this new Universal Pull Bar with our automatic arm systems in October at no additional charge to the customer."

Since 1989, Pulltarps manufacturing has been providing high quality, reliable and cost effective truck tarp systems for the construction industry. We offer a full range of advanced tarping solutions for covering Dump Trucks and Dump Trailers. Our tarp systems are built to last and include Electric and Manual Arm Tarp Systems, Cable Tarp systems, and manual or electric Pulltarps. We use only quality tarp fabrics that include heavy duty mesh, vinyl and urethane coated vinyl for tarping hot asphalt. For a free video and catalog on all PULLTARPS7 products call (800) 368-3075 or visit us at www.pulltarps.com.

CONTACT:

Glenn Ray,

Marketing Direrctor

PULLTARPS MFG.

(800)-368-3075

info@pulltarps.com

Company Name:

Pulltarps Mfg

Phone: 800-368-3075

URL: www.pulltarps.com

More from Architectural & Civil Engineering Products