PTCB: Now with Class I, Div. 2 Approval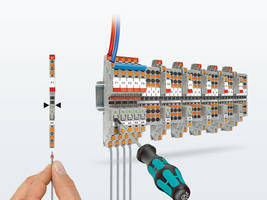 New approvals make PTCB circuit breakers suitable for hazardous locations
Middletown, Pa. – The PTCB circuit breakers from Phoenix Contact are now approved for use in Class I, Division 2 hazardous locations. The entire family is Listed to UL 508 and Recognized to UL 2367. With the new approvals, the narrow circuit breakers meet the stringent requirements for installation in potentially explosive areas in North America.
The PTCB family is ideal for 24 V DC applications that require high density and effective protected power distribution to multiple common loads. The circuit breakers come in either fixed versions or programmable versions, which can be individually adjusted from 1 to 8 A. This flexibility lets them cover a wide range of applications with a single part number. NEC Class 2 options are also available to eliminate fire and shock hazards.
The standard PTCB has a Normally Open (NO) dry contact output to indicate when it has been tripped. Status inverted-reset (SI-R) versions have a digital status output that indicates when they have been tripped. The SI-R version also has a separate digital reset input that enables a tripped device to reset remotely. The inverted status output simplifies grouped status signal acquisition, and the remote reset is indispensable for hard-to-access applications.
The PTCB can bridge to Phoenix Contact's CLIPLINE complete terminal block portfolio. Because it is compatible with standard terminal blocks and accessories, it reduces the required inventory and simplifies integration. The 6‐mm‐wide footprint saves valuable space in the control cabinet, and protection can be adapted to the respective application with little wiring effort. Individual protection of the loads and potential distribution across several loads can be set up quickly and easily.
For more information, visit www.phoenixcontact.com/PTCB.
About Phoenix Contact
PHOENIX CONTACT develops and manufactures industrial electrical and electronic technology products that power, protect, connect, and automate systems and equipment for a wide range of industries. Phoenix Contact GmbH & Co. KG, Blomberg, Germany, operates 50 international subsidiaries, including Phoenix Contact USA, Inc., in Middletown, Pa.
For more information about Phoenix Contact or its products, visit www.phoenixcontact.com, call technical service at 800-322-3225, or e-mail info@phoenixcontact.com.
More from Laboratory and Research Supplies and Equipment