PSL Demonstrates High Performance Small Scale Production Filtration and Drying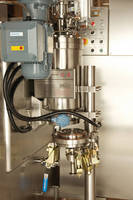 With a filtration area of 0.03m² Powder Systems Ltd's (PSL's) latest filter dryer provides a good solution for kilo lab application and commercial production of highly active product.

The kilo lab filter dryer's 0.03m² filtration area provides 15L liquid volume, 6L wet cake volume capabilities and an alloy 22 construction.

PSL filter dryers provide optimal performance through high drying efficiency, complete heel removal, high containment operations and CIP systems.

High containment isolator with filter dryer discharge:

PSL's high containment isolator allows product to be completely removed through a raking system and weighed and dispensed inside the isolator.

The powder can be discharged into bags and transferred via an RTP, or the powder can be directly transferred into bags via a split butterfly valve.

OEL test results:

PSL's client required an OEL test result of <1µg/m³ 8hr TWA. PSL's philosophy is to exceed their client's containment requirements and in this test significantly bettered their client's needs by achieving an average of <50ng during the sampling period.

PSL provides total confidence that operations can be carried out without containment breach ensuring full operator and product protection.

PSL's filter dryers can be simply scaled-up from 0.002m² to 2.5m².

PSL contact:

Camille Flores - camille.flores@powdersystems.com - +44 (0)151 448 7700

Company information:

Powder Systems Limited

+44 (0)151 448 7700

www.powdersystems.com

sales@powdersystems.com

About PSL:

Powder Systems Ltd (PSL) provides a full range of filtration, drying and contained powder handling products to worldwide industry leaders including Pfizer, GSK and BMS. From small-scale production to full process systems PSL's isolation products provide containment to nanogram levels for handling highly potent APIs.

PSL provides a full service that includes: OEL testing, installation, operator training, aftercare, reliable spare parts and emergency call out to anywhere in the world. PSL has been established for 23 years and has offices and distributors worldwide to easily assist their global customer base.

More from Material Processing