PRV Kits suit high-temperature applications.
Press Release Summary: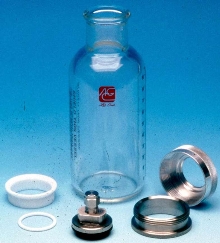 Helping to prevent meltdown, PRV (pressure reaction vessel) High Temperature Kits meet requirements for observing reactions in gases and liquids under pressure at operating temperatures above 175°C. All coupling materials are selected for high-temperature environments. Features include PTFE insert, PTFE O-ring, and chemically inert, borosilicate glass vessels. Applications include observation of solubility, chemical behavior, and purity of propellant batches.
---
Original Press Release:
Hight Temperature Application Kit for Pressure Reaction Vessel Users

Andrews Glass Company has developed a pressure reaction vessel kit specifically designed to meet the need for observing reactions in gases and liquids under pressure at high temperatures. These PRV High Temperature Kits provide a convenient, economical way to prevent "meltdown." All coupling materials have been selected for their durability and performance in high temperature applications. The standard polyethylene insert has been replaced by a PTFE insert. The standard Neoprene O-ring has also been replaced by a PTFE O-ring. These High Temperature Kits are recommended when operating temperatures are above 175°C.

Ideal for use in research and industrial laboratories, these chemically inert borosilicate glass vessels allow accurate and safe observation for a variety of applications. Some typical applications include: solubility of gases in liquids at increased pressure; chemical behavior of liquids and gases subjected to temperature and pressure changes; effect of liquids on metals; spray and pressure characteristics; and purity of propellant batches.

For more information call 800-845-0026, FAX 856-692-5357, visit: www.andrews-glass.com or write Andrews Glass Company, 3740 NW Blvd., Vineland, NJ 08360.
Related