Cleaning Compounds and Chemicals
Proven Healthier Floorcare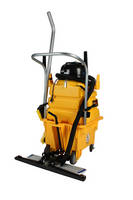 According to the University of Massachusetts, results from a series of tests comparing the cleaning effectiveness of Kaivac's new, low-cost AutoVac Cleaning System to other floor cleaning methods such as automatic scrubbers indicate the average reduction in ATP using the AutoVac System matched-or exceeded-the effectiveness of an automatic scrubber.

ATP on a surface is often a red flag that contaminants are present. But with the cost-effective AutoVac, part of Kaivac's OmniFlex(TM) Crossover Cleaning System, floors come out cleaner and proven healthier.

For more information, visit www.kaivac.com or call toll-free: 800-287-1136.

More from Cleaning Products & Equipment