Prototyping Tool is offered in cellphone-sized package.
Press Release Summary: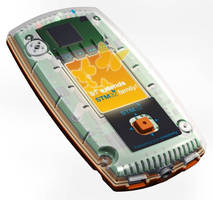 STM32 Primer2, in cellphone-like form factor, includes features that enable rapid design of good-looking prototypes and demonstrators. It comes with 128 x 160-pixel color touchscreen, joystick/push button, extension connector, and pre-loaded sample applications, along with USB port and MicroSD card slot. Other features, such as accelerometer and an infrared transmitter/receiver, allow users to add extra capabilities. Components are managed via CircleOS open-source framework.
---
Original Press Release:

Handheld Prototyping Tool from STMicroelectronics Makes Small Computing Devices as Easy and Fun to Create as They Are to Use



STM32 Primer2, in a cellphone-like form factor, provides color touchscreen, powerful audio features, and more to enable rapid design of good-looking prototypes and demonstrators

Geneva, February 5, 2009 - STMicroelectronics (NYSE: STM), a world leader in microcontrollers, has gone further to help product designers prove their own ideas quickly and independently, by adding a rich range of features such as touchscreen, built-in audio and an extension connector to its series of self-contained handheld platforms for embedded design.

The latest STM32 Primer2 is about the size of a cellphone, and comes with a 128x160-pixel color touchscreen, a joystick/push button, extension connector and pre-loaded sample applications. There is also a built-in USB port, a MicroSD card slot, and other features, such as an accelerometer and an infrared transmitter/receiver, that allow users to quickly add numerous extra capabilities and functions to their applications. All of these components are easy to manage through the built-in software framework, the open-source CircleOS.

ST's STM32 Primer for collaborative embedded development allows users to quickly turn a concept into an attractive-looking demonstrator. This is increasingly important for today's product innovators, particularly when seeking independent funding. A range of existing applications and an online community (www.stm32circle.com) of around 6000 developers stimulate ideas and creativity. Using the STM32 Primer2, users can present a high-quality prototype, rather than a conventional engineering development board, to create a better first impression with minimal design-start investment.

ST first introduced Primer-based development with the ST7 Ultralite Primer with features including a buzzer, light-sensor and music applications. The first STM32 Primer was introduced in late 2007 and offered a new ergonomic design featuring a 128x128-pixel screen. Over 10,000 units have been shipped. Building on this success, the STM32 Primer2 adds extra benefits such as the larger screen with touch sensing and a Lithium-ion battery with features for extended battery life.

At the same time as providing a turnkey solution ready to run sample applications, ST's STM32 Primers come with the Raisonance Ride7 application development software, and the GNU C compiler. This allows embedded designers to use the Primer platform for complete development of complex end products. All necessary design resources are included, including source code for the pre-loaded applications, as well as software libraries for peripherals such as MEMS position sensors, the touchscreen and embedded audio components of the STM32 Primer2. The STM32 Primer2 also has a 20-pin external connector allowing easy connection of external circuit boards.

The STM32 Primer2 enables product developers with diverse skills to access the power of ST's advanced 32-bit STM32 microcontroller, which is available in three families targeting cost-effective, high performance, or USB-based applications. Available devices have Flash memory ranging from 16KB to 512KB, and all models across all families are pin-compatible for maximum flexibility and easier design upgrades to existing products. In addition, STM32 developers can receive support from a dedicated web site (www.stm32circle.com), which has more than 6000 registered users and provides technical resources, design-sharing opportunities, and discussion forums.

The STM32 Primer2 is in production now, and is available from all ST distributors at a recommended price of $49 each.

About STMicroelectronics

STMicroelectronics is a global leader in developing and delivering semiconductor solutions across the spectrum of microelectronics applications. An unrivalled combination of silicon and system expertise, manufacturing strength, Intellectual Property (IP) portfolio and strategic partners positions the Company at the forefront of System-on-Chip (SoC) technology and its products play a key role in enabling today's convergence markets. The Company's shares are traded on the New York Stock Exchange, on Euronext Paris and on the Milan Stock Exchange. In 2008, the Company's net revenues were $9.84 billion. Further information on ST can be found at www.st.com.

STMicroelectronics, Inc.

Lexington Corporate Center

10 Maguire Road

Bldg. 1, 3rd Floor

Lexington, MA 02421

(781) 861 2650

www.st.com


More from Mechanical Components and Assemblies