PROTO® Introduces New Mechanics Tools to its Aerospace-Compliant Range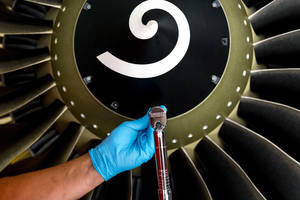 TOWSON, Md., July 30, 2018 /PRNewswire/ -- PROTO® Industrial Tools is pleased to announce that the company has introduced new products to its range of 1,500+ aerospace-compliant (AS) mechanics tools, all manufactured in the company's Dallas facility.
From newly innovated intermediate sockets, wrenches, extensions, and ratchets, to torque tools and accessories, select PROTO® hand tools meet the specifications mandated by the SAE International group of engineers (SAE AS954G, AS955, AS4984A, and more). These hand tools meet both dimensional and plating specs to help promote productivity, safety, and durability suitable for most heavy industrial verticals. PROTO® engineers, manufactures, and tests its products in its own Dallas, TX facility to help ensure quality and precision manufacturing.
For users in industries like Aerospace, Oil and Gas, Petrochemical, Manufacturing, Automotive, and more, aerospace-compliant tools meet next-level durability and quality standards necessary to perform in extreme conditions. Over 1,500 PROTO® mechanics tools meet the required aerospace specifications needed to accommodate precise applications demanded in aviation, government, and military verticals.
Products in the new line-up include, but are not limited to:
PROTO® 1/4", 3/8", 1/2" and 3/4" Intermediate 12-Point Sockets
The new intermediate length allows for access in tight areas when standard and deep sockets can't cut it. This range of full polish sockets meet both dimensional and plating specifications. 
PROTO® 15˚ Double Box Offset Wrenches (J111214L, J111820L)
These full-polish wrenches meet and exceed stringent aerospace plating and dimensional specification AS954G, which requires box ends to feature thin outside diameters as well as thick nickel-chrome coating for greater corrosion-resistance. The offset box end allows access to recessed fasteners and keeps hands clear of obstructions. 
PROTO® Precision 90 Ratchets (J4749HTC, J5249HTC) and PROTO® 1.4" and 3/8" Drive Precision 90 Torque Wrenches (J6062HTC, J6064HTC)
The PROTO® Precision 90 Pear Head Ratchets and PROTO® Precision 90 Pear Head Torque Wrenches are available in multiple lengths and finishes and are a staple for mechanical jobs. A compact pear-head design and 4° swing arc provide users access in even the tightest working areas. With a tooth count of 90, the PROTO® Precision 90 Ratchet delivers high precision, while offering high access. Made with tough jobs in mind, the ratchet provides an ergonomic handle that can help reduce fatigue during use. The PROTO® Precision 90 Ratchet is proudly manufactured in the USA.
"PROTO understands that the aviation mechanic needs to get his job done the right way, the first time," commented Nick Filipone, Product Manager. "PROTO's commitment to quality manufacturing provides end users the peace of mind that their investment was well spent on tools that are precise enough to access the hardest to reach fasteners AND durable enough to stand the test time in the roughest of environments."
About PROTO® Industrial Tools
PROTO® has been making durable, high-quality hand tools in the USA for more than 100 years, having grown from a small machine shop to a worldwide supplier. Our tools are developed according to strict industry standards, with features that let users work quickly and efficiently, including double nickel-chrome plating to help protect against corrosion on sockets, wrenches, ratchets, and torque tools, and thinner outside diameters on box end wrenches to better reach obstructed 12-point fasteners. We are exhaustive in our efforts to make safe tools and provide tool safety education. For more information on the PROTO line of industrial tools, call 800-800-TOOL, or visit www.protoindustrial.com.
Contact: Chrissy Davies 
Phone: (860) 406-9199
E-mail: chrissy.davies@sbdinc.com