ProTek Introduces PTB05-ULC Surge Protector in Molded DFN-18 Package
Press Release Summary: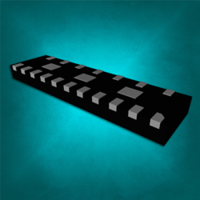 ProTek's PTB05-ULC Surge Protector is designed for automotive infotainment systems, industrial cameras, Thunderbolt and HMDI with a capacitance 0.15pF max. Unit can protect up to eight high speed data lines from electrostatic discharges and electrical over-stress. The protector is offered on 12 mm tape and reel with lead-free pure tin-plating and a solder reflow temperature of 260 to 270°C temperature. PTB05-ULC is compliant to RoHS and REACH standards and is compatible with IEC standards of ESD contact ±15kV and air ±15kV.
---
Original Press Release:
ProTek Devices' New Surge Protector Offers Super Ultra-Low Capacitance for Use in Automotive, Industrial, and More
Boasting 0.15pF Ultra-Low Capacitance, the PTB05-ULC is Setup as Ideal for Automotive Infotainment Systems, Industrial Cameras, Thunderbolt, HMDI and More
TEMPE, ARIZ. (PRWEB) JUNE 04, 2018
ProTek Devices has introduced a new ultra-low-capacitance surge protection component for circuit protection in applications such as automotive infotainment systems, industrial cameras, Thunderbolt and more. The very low capacitance for the new PTB05-ULC is 0.15pF max (I/O to GND).
Other applications include V-by-One HS, HDMI 2.0, and LVDS. The PTB05-ULC is designed to protect high speed data lines – up to eight – from electrostatic discharges (ESD) and electrical over-stress (EOS). It is compatible with IEC standards 61000-4-2 (ESD): contact ±15kV, air ±15kV; with 61000-4-4 (EFT): 40A - 5/50ns; and with 61000-4-5 (surge): 7A - 8/20 micro seconds. It boasts a PCB single-connect and flow-through design. It also leverages solid-state silicon-avalanche technology. In addition, the PTB05-ULC is RoHS and REACH compliant.
Mechanical, Packaging and Availability Information 
The PTB05-ULC surge protector is now available and is provided in a molded DFN-18 package. Other key mechanical characteristics include lead-free pure-tin plating (annealed) and a solder reflow temperature of (pure-tin - Sn, 100) 260 to 270 degrees Celsius. It has a flammability rating of UL 94V-0. It is delivered on 12mm tape and reel, per EIA standard 481, in minimum quantities of 3,000. Pricing information and purchasing details can be had by contacting any authorized distributor, representative, or directly with ProTek Devices. Full contact information for all regions can be found at the company website.
About ProTek Devices 
In business more than 25 years, ProTek Devices™ is a privately held semiconductor company. It offers a comprehensive product line of circuit protection devices. This includes overvoltage protection components and overcurrent protection components. Its transient voltage suppressors (TVS array), avalanche breakdown diodes, steering diode TVS arrays, PPTC devices, and electronic SMD chip fuses are widely used. Household brands and many other companies use ProTek Devices' products to protect investments made in electronics designs and investments customers make in their products. Circuit protection is provided against lightning; electrostatic discharge (ESD); nuclear electromagnetic pulses (NEMP); inductive switching; and electromagnetic interference / radio frequency interference (EMI / RFI). ProTek Devices is based in Tempe, Ariz. It sells its components through a worldwide network of distributors and representatives across the US, Europe, Asia, Latin America, and more. Additional information is available at http://www.protekdevices.com.
Contact Information
VP Pai
ProTek Devices
http://www.protekdevices.com
+1 6023631611
Rafael Larin
Emissary Communications
http://www.emissarypr.com
Related