Protective Pipe Caps for shipping and storage.
Press Release Summary: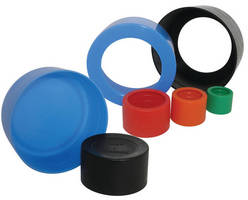 Vented pipe caps as well as pipe and conduit open end pipe caps protect non-threaded and threaded NPT pipe ends as well as rigid metal and intermediate metal conduit. Manufactured from LDPE and MDPE, standard pipe caps protect pipe ends from damage and debris. Vented holes stop pressure build-up that would force caps off during storage/shipment. Available in 1/8-64 in. sizes to accommodate popular pipe sizes, caps offer push-on application to facilitate tool-free installation/removal.
---
Original Press Release:
Pipe Caps for Shipping and Storage Protection
Erie, PA. Alliance Plastics is proud to introduce their newly added vented pipe caps. Also new to the product offering are pipe and conduit open end pipe caps. Alliance Plastics pipe caps are made to protect both non-threaded and threaded NPT pipe ends, rigid metal and intermediate metal conduit. Whether you need a standard pipe cap to protect against damage or foreign materials entering the pipe, one that is resistant to cracking and splitting or a vented pipe cap, Alliance Plastics has the pipe end cap you need. Our range of plastic pipe caps cover nominal pipe sizes from 1/8" to 64" to cover all your protection needs. Standard pipe caps are manufactured from low-density and medium-density polyethylene materials and are a great way to easily protect pipe ends from damage and debris, such as dirt and moisture. They are offered in numerous sizes and styles to handle all pipe protection needs. Finding the right part for a particular item is crucial in keeping products safe during shipping and storage. The style type is the first item to consider. Manufacturing machines allow such items to be created in many forms. For example, pipe caps are offered with closed ends, open ends or vent holes. Although they all may help to prevent pipe damage, vented holes stop pressure from building up that may force these products off during storage and shipment. Stronger items that are resistant to cracking or splitting are popular for use in areas with extreme hot or cold temperatures. Their outstanding toughness and puncture resistant ability creates a durable product for any pipe. Heavy duty lines offer thicker material for added security whereas open-ended parts are used particularly for protecting external threads, rigid and intermediate metal conduit ends. The type of material is also important to consider when deciding on the proper end cap. Low-density polyethylene (LDPE) is the basic material for a reliable part. This popular material is used in many common, everyday products that prove its dependability. For a reliable, economical product, one can't go wrong with a LDPE cap. For an even more durable product material, one might want to consider a part made for a medium-density polyethylene (MDPE) material. This substance is common for use on more heavy duty components for added protection. From a nominal pipe size of 1/8" to 64", these end caps are designed to accommodate the most popular pipe sizes. The easy push on application allows for simple installation and removal without any tools. This creates a convenient product for temporary and long term protection. These pipe caps can be used on plastic pipes as well as steel pipes. These parts are also sized and designed for positive gripping power over the threads on the pipe. As the size of the pipe cap increases, so does the weight, which will also increase shipping and freight costs. Alliance Plastics has tackled this issue by establishing regional stocking locations through the United States and Canada for the convenience of local stock and freight cost savings. About Alliance Plastics Alliance Plastics is a manufacturer and distributor of protection and finishing components for a wide range of industries and applications. Alliance Plastics operates predominantly in the United States, Canada, Mexico and Brazil but has a global presence through distribution in Europe and Asia. Formed in 1968, Alliance Plastics employs more than 200 people in 10 locations throughout North and South America. The company's headquarters and primary manufacturing site are located in Erie, Pennsylvania, where significant investment in information technology, production machinery, tooling, and warehouse facilities drive ongoing improvements in customer service. Additional manufacturing operations were incorporated into existing distribution operations at the Sao Paulo, Brazil site in 2006. This site anchors the company's presence in the region. For more information or to request free samples of this product, visit www.AlliancePlastics.com , email sales@allianceplastics.com , or call 800-551-2052. To request our new catalog detailing 2010 NEW PRODUCTS visit www.AlliancePlastics.com/catalog. All orders placed before 3pm EST will be shipped the same day from one of our 8 regional locations throughout the US and Canada.
More from Agricultural & Farming Products