Protective Foam suits food applications.
Press Release Summary: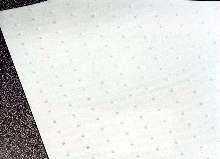 Microfoam® XFS polypropylene foam is compliant with U.S. FDA regulations for all food applications for all conditions at temperatures not exceeding 250°F. Foam incorporates 50,000 closed cells/in.³ for cushioning, void fill, thermal, vapor transmission, interleaving, surface protection, and insulation. Capable of immobilizing food items and preventing abrasion/bruising, product is resistant to staining and mold/mildew growth.
---
Original Press Release:

Pactiv Launches Microfoam® XFS for Food Applications


Lake Forest, Ill. (April 9, 2003)- Pactiv Corporation's (NYSE: PTV) well-known microfoam® polypropylene (PP) foam is now expanding into food applications under the microfoam® XFS brand name. (Microfoam® PP has long been on the market as a protective packaging alternative for non-food applications such as furniture, glass, electronics, china, etc.)

The new launch, microfoam® XFS, is compliant with U.S. Food & Drug Administration regulations for all food applications, under all conditions at temperatures not exceeding 250 degrees Fahrenheit.

The closed-cell PP foam has a high coefficient of friction which makes it ideal for immobilizing food items and preventing abrasion/bruising in a variety of applications such as produce, meat, poultry, prepared foods, etc. Specific food examples include protecting cut fruit from roller abrasion, minimizing breakage for fragile taco shells and top/bottom pads for produce cases.

It has minimal absorption properties, so microfoam® XFS is resistant to staining and mold/mildew growth. Its white color is consistent with the purity associated with food applications. Additional properties include thermal protection and vapor transmission.

Microfoam® XFS is available in sheets and perforated rolls in thicknesses of 1/16-, 3/32- and 1/8-inch with bundle lengths of 900-, 600- and 450-feet, respectively. Width options are 48-, 60- or 72-inches.

Microfoam® XFS incorporates 50,000 closed cells per cubic inch for superb cushioning, void fill, thermal, vapor transmission, interleaving, surface protection and insulation. It is the only low-density polypropylene sheet foam packaging product on the market.

Pactiv Corporation (NYSE: PTV) is a leading producer of specialty packaging products with sales of $2.9 billion and operations in 14 countries. Pactiv is a market leader in growth sectors of the packaging industry: Consumer Products, with the Hefty® brand; Foodservice/Food Packaging; and Protective and Flexible Packaging. For more information about Pactiv, visit the company's web site at www.pactiv.com.

Please forward sales inquiries to:

Protective Marketing Dept.
Pactiv Corporation
1900 West Field Court
Lake Forest, IL 60045
Phone: (847) 482-8812
Phone: (877) 692-6163 (toll free)
Fax: (847) 482-4529

More from Machinery & Machining Tools