Protective Foam Plank adheres directly to product surface.
Press Release Summary: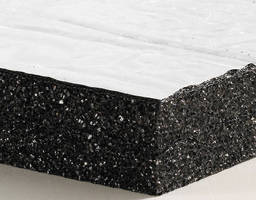 Offering 2-step lamination technology, PolyPlank® Plus is suited for any item with painted or non-painted surface that needs to be protected during shipment. Protective foam plank can have outer layer made from various substrates, including foil, paper, air cushioning, nonwovens, scrims, adhesive, and cohesive films. Substrate is laminated onto closed-cell polyethylene foam sheet, which is then laminated to thicker single- or multi-layer plank structure.
---
Original Press Release:

Pregis' Polyplank® Plus Combines Adhesive, Lamination to Create New Generation of Cost-Effective Foam Plank



Deerfield, Ill., August 18, 2009-New PolyPlank® Plus from Pregis Corp. combines various substrates and two-step lamination technology to create a new generation of cost-effective protective foam plank products.

The outer layer of PolyPlank® Plus can be made from a broad variety of substrates such as foil, paper, air cushioning, nonwovens, scrims, adhesive and cohesive films, etc.

In the first step, the substrate is laminated onto an engineered foam sheet. This assembly is then laminated to a thicker single or multilayer plank structure. For example, you can laminate a pressure-sensitive adhesive layer to PolyPlank® Plus. This creates a custom foam block that, when adhered to a product, protects surfaces from punishing impact without marring finishes or leaving residue.

Packagers need only remove the release liner to expose the adhesive and adhere the adhesive or cohesive/protective foam block to the product or packaging surface. (The plank lamination can also be manufactured without an adhesive layer for those applications which do not require it.)

By removing a fabrication step, PolyPlank® Plus gives packagers a cost-effective alternative to traditional custom fabricated foam plank cushioning.

"For example, end caps for computer towers traditionally have been custom-fabricated to fit around the edges. This custom fabrication adds another step and, as a result, adds to packaging costs. Because PolyPlank® Plus has been engineered to adhere directly to the component or packaging surface, custom fabrication is no longer necessary. You can simply cut the foam plank into various sized blocks, expose the adhesive and adhere the piece directly onto the desired surface," explains Tony Smith, general manager, engineered products, Pregis.

PolyPlank® Plus is ideal for applications such as industrial parts, appliances, aircraft components, marine parts, industrial equipment, furniture and consumer electronics-any item with a painted or non-painted surface that needs to be protected during shipment.

The wide variety of substrates available also opens the door to innovative applications. For example, a foil laminated plank can be used in a corrugated shipper to help transport lobsters "on ice" and other seafood items. Non-woven material can be laminated to foam to improve non-abrasive qualities. Scrim and/or other materials can be added to improve tear and puncture resistance for objects with sharp edges. Films can be utilized to improve the strength of living hinge end-caps or corner protectors.

"Manufacturers are constantly looking for ways to minimize packaging costs while still protecting their products in transit. We believe that PolyPlank® Plus offers many high-performance protection options which may not currently exist in the marketplace or which may be too costly to produce at the fabricator level." says Smith.

PolyPlank® Plus is made from closed-cell polyethylene foam and provides superior protection against shock and vibration during transport. It can be made up to 48-inches wide, in thicknesses ranging from 1- to 10-inches in most densities.

About Pregis:
Pregis Corporation is a leading global provider of innovative protective, flexible, and foodservice packaging and hospital supply products. The company offers packaging and product solutions for a wide variety of consumer and industrial market segments including food and foodservice, healthcare, agriculture, automotive, furniture, electronics, construction, fulfillment, catalog and military/aerospace. The specialty-packaging leader currently operates 47 facilities in 18 countries around the world. For more information about Pregis, visit www.pregis.com.

Please forward sales inquiries to:
Pregis Corp.
1650 Lake Cook Road, Ste. 400
Deerfield, IL 60015
Phone: (877) 692-6163
Email: protectivesales@pregis.com