Protective Case secures handheld electronics, smart phones.
Press Release Summary: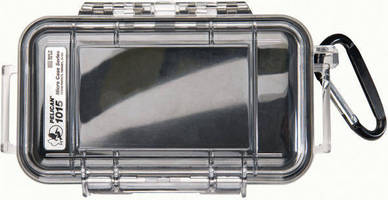 Featuring impact-, heat-, and chemical-resistant polymer shell, 1015 Micro Case is available in clear with black, blue, red, or yellow liner or in solid black with yellow liner. Internal rubber liner, with series of curved bumpers lining perimeter, doubles as weather-resistant seal and shock absorber. Polymer latch and stainless steel hinge ensure case stays closed when dropped, and 2 loops at either end are provided for tie off.
---
Original Press Release:

Pelican(TM) Micro Case Series(TM) Expands to Seven Models with the Versatile 1015 Micro Case



TORRANCE, CA - Built as another protection option for hand-held electronics and smart phones, the 1015 Micro Case has become the seventh model in the Pelican Products Micro Case Series(TM).

The case's internal rubber liner doubles as a weather resistant seal and as a shock absorber with a series of curved bumpers lining the perimeter. Its "easy-open," yet-durable, polymer latch and stainless steel hinge ensures that the case will stay closed when dropped.

For ultimate security, the 1015's high-impact, heat and chemically resistant polymer shell will stand up to some of the harshest conditions known to man.

The case also features two loops at either end of the case for easy tie off and a carabiner to secure it to a belt loop or backpack. The 1015 Micro Case has an MSRP of $19.95 and is available in clear with a black, blue, red or yellow liner or in solid black with a yellow liner.

Also available is the i1015 Case which is built to protect the iPhone(TM), iPod touch® and other smart phones. It features a clear lid that allows the user to watch videos or check the playlist while it protects their device. It also features an external head phone jack that allows the user to listen to music or Podcasts while the case is closed.

About The Pelican Micro Case Series
Similar in design to Pelican's full line of equipment cases, Pelican Micro Cases offer unsurpassed quality to keep valuable equipment safe and dry. Their internal rubber liners work with an incredibly tough polymer shell and latch to create a weather-resistant seal. They are also outfitted with an automatic pressure purge valve that regulates internal air pressure and prevents vacuum lock so the case is easier to open at any altitude. Pelican Micro Case Series cases fit a wide variety of small items such as cell phones, PDA's, pagers, small electronics, hand held instruments and other sensitive devices.

About Pelican Products
Pelican Products, Inc. is the global leader in the design and manufacture of advanced lighting systems and virtually indestructible cases. After acquiring Hardigg Industries in December 2008, the company now operates in 12 countries, with 22 offices and six manufacturing facilities across the globe. For more information, visit www.Pelican.com, www.hardigg.com or www.behrmancap.com.

Media Contact: Keith Swenson, (310) 326-4700, kswenson@pelican.com

More from Materials