Protect Your Instrumentation with NOSHOK Sintered Snubbers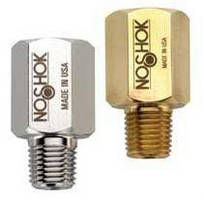 Berea, Ohio - NOSHOK announces the availability of Sintered Pressure Snubbers, a simple and cost effective solution to protect expensive instrumentation.

NOSHOK sintered discs are held intact by way of a set screw. Unlike the competitor's crimped method, NOSHOK Sintered Snubbers allow easy cleaning and/or replacement of the sintered disc by simply removing the set screw, replacing the disc and then re-inserting the set screw. This type of built in versatility greatly increases the snubber's longevity, durability and dependability. Features and benefits of Sintered Snubbers include:

o Increases gauge readability by smoothing out pressure surges, pulsations and spikes
o Eliminates instrument failure due to pressure shock
o Snubbing action is achieved by utilizing a corrosion resistant 316 stainless steel sintered disc
o 5 basic discs are available for each snubber to accommodate specific application needs
o Provides long service life with no moving parts to wear out
o Exotic materials or intermediate disc grades are available on a per order basis

NOSHOK, Inc. is a leading supplier of pressure, level, temperature and force measurement instrumentation, along with needle & manifold valves, serving major industries around the world. Products include pressure gauges, pressure and temperature transmitters, transducers & indicators, pressure switches, needle valves, manifold valves, pressure snubbers, bimetal thermometers, force measurement sensors and diaphragm seals. These products meet and exceed the application requirements of OEM's and industrial users seeking exceptional quality, reliability and value.

More from Electrical Equipment & Systems