Project Management Software targets footwear industry.
Press Release Summary: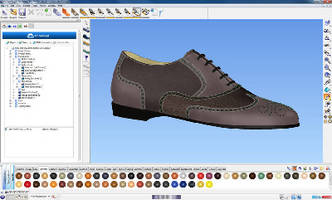 With ShoeCloud, users can manage design and manufacturing data throughout development of new shoe designs, either within single company or along supply chain. Once project has been started, tasks can be assigned to team members, who receive e-mail notification with information on what they need to do and deadline for their part of project. Each change to overall design, or to single element, is stored within ShoeCloud to give complete revision history showing who has generated data and when.
---
Original Press Release:

Delcam CRISPIN Launches New Project Management System for Footwear Industry



Delcam CRISPIN has launched project management and collaboration software for the footwear industry called ShoeCloud.  ShoeCloud enables more efficient management of design and manufacturing data throughout the development of new shoe designs, either within a single company or along a supply chain.  It also makes decision making more productive by giving the right information to the right people at the right time. 



ShoeCloud can be integrated within the CRISPIN range of software for 3D footwear design and manufacture.  Alternatively, for staff not directly involved in design and manufacturing, such as management or marketing departments, ShoeCloud data can be accessed though standard Web browsers and e-mail.  This versatility allows ShoeCloud to speed and streamline communications at all levels, and so lead to quicker introduction of new designs.



ShoeCloud is expected to be of most benefit for organisations that undertake design in North America or Europe and manufacturing in Asia.  By enabling easier and faster exchange of data between the two regions, detailed project management will be possible with a significant reduction in the time and cost of international travel.



ShoeCloud can store all project data in any format but works best with the CRISPIN .Shoe format.  This format contains the information required for every aspect of design and manufacturing, from the generation of the initial design through to mass production, so there is no need to manage multiple file types.  It makes data management and project planning much simpler, as well as giving greater confidence that the designer's original intent is captured in the finished footwear.  For staff that do not use any CRISPIN software, designs of complete shoes, or of components such as patterns and soles, can be viewed as .jpg images or 3D pdf files.



Each change to the overall design, or to a single element, is stored within ShoeCloud to give a complete revision history showing who has generated the data and when.  Revision authority can be allocated as required, with staff not authorised to make changes themselves able to record comments.  Designs are locked automatically when they are removed from the vault to prevent conflicts if more than one person tries to change the design simultaneously.



Once any project has been started within ShoeCloud, tasks can be assigned to one or more team members, who receive an e-mail notification with information on what they need to do and the deadline for their part of the project.  The whole team can see a full record of the project to date, together with the tasks that are scheduled for them and for the other team members.  Managers can track the progress of each project and the level of activity that is scheduled for each team member.



This comprehensive access to project data ensures that every person involved in the project group has all the information they need in order to set their individual priorities and to participate in collective decision-making.  It also enables each person involved in a project to track exactly who is expected to do any specific task, together with both when it is due to be completed and when it is actually finished.



All workflow is recorded as the project progresses.  Thus, as ShoeCloud is used, a knowledge base is created with the full history of all projects undertaken to date.  For any project, details can be tracked of all communications, with a full record kept of all instructions given and information supplied, together with a history of who approved what and when. 



This database can be searched to provide background information when starting a new project related to, or similar to, any previous contracts, for example, designs already produced for a particular customer.  As well as helping in project planning and team management, this in-depth recording also allows ShoeCloud to be used to maintain quality standards.



As a result of all the continuous communication, the number of formal meetings between footwear design and manufacturing teams can be reduced.  Actions from the meetings that are held can be logged within ShoeCloud and the people responsible e-mailed with details to ensure that they are aware of the decisions made, the work that needs to be done and the scheduled completion dates.



Most importantly, ShoeCloud allows the work that needs to be progressed most urgently to be highlighted for immediate action.  Everyone involved in the project knows exactly what tasks they are supposed to be doing and in which order of priority, so there is less chance of them being sidetracked into less important work. 



For further information on Delcam CRISPIN software for the footwear industry, please contact: -

Peter Dickin, Marketing Manager

Direct phone: 44 (0)121 683 1081 

e-mail: marketing@delcam.com