Accounting and Financial Software
Project Control Software suits construction industries.
Press Release Summary: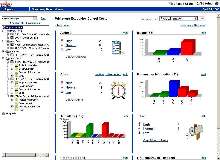 Browser-based Primavera Expedition v9.0 provides information for team collaboration and decision-making. Role-based interface enables users to understand changes, status, and cost in order to streamline construction process. Information is protected by security options that create custom profiles for each project team member. Offerings include true contract management, automatic summarization of related contract information, and tracking of associated costs down to line-item level.
---
Original Press Release:

Security, Contract Management and Costing Capabilities Enhanced in Primavera Expedition(r) 9.0


PHILADELPHIA, PA, May 5, 2003 - The latest release of Primavera Expedition is the easiest-to-use project controls solution available today. Expedition 9.0 - a fully browser-based software solution - provides timely and accurate information for enhanced team collaboration and better and faster decision-making.

Through its role-based interface, all internal and external project members - field superintendents, project engineers, project managers, general contractors, subcontractors, architects and clients - can quickly understand changes, status and cost. This information helps streamline the construction process and move projects forward. Expedition 9.0 can be used within a company's network as well as securely over the Internet, providing all project participants around the globe with easy access to project information.

"In a competitive industry where the relationship between costs and quick project delivery is critical, Primavera Expedition 9.0 provides a number of key advantages," comments James Uzdavinis, Project Controls Manager, Jordan, Jones & Goulding. "The enhanced collaboration enables more timely responses to critical and potentially schedule-delaying field issues. Because contractors know who is accountable for certain key items, there are no surprises in the overall project. Expedition 9.0 expedites the construction process, without any unnecessary costs."

"We have applied our 20 years of project management experience to deliver the most intuitive and comprehensive project controls software solution available in the marketplace," said Joel M. Koppelman, CEO of Primavera Systems, Inc. "The browser-based interface of Expedition 9.0 streamlines the entire construction process while providing a lower cost of ownership to our customers."

Information in Expedition 9.0 is protected by a set of comprehensive security options which help create custom profiles for each project team member - including third parties such as designers, engineers and subcontractors - to allow access to Expedition without any concern of exposing confidential information.

Other key features and benefits of Expedition 9.0 include:

o True Contract Management

All related contract information, such as requisitions, change orders, submittals and insurance information, is automatically summarized for quick status reports. View and create related contract documents directly in the contract module. There is no longer a need to search for individual documents or details since all contract information is conveniently located in one location.

o Enhanced Costing Capabilities

Costs associated with contracts, change orders, proposals and trends can be tracked down to the line-item level. Expedition 9.0 can be integrated with accounting and ERP systems to offer seamless communication between project controls and accounting.

o Easy Installation

With one click, Expedition 9.0 can be quickly installed companywide and on the job site. Using the browser-based interface, users are able to immediately access real-time project information.

Product Availability

Expedition 9.0 is now available directly from Primavera and through its network of Primavera Authorized Representatives. Primavera Expedition customers will automatically receive Expedition 9.0 for each license under current maintenance.

Primavera Expedition

Primavera Expedition is the leading project controls and contract management solution for architecture, engineering and construction projects. Expedition helps construction professionals successfully carry construction schedules to an on-time and on-budget completion.

About Primavera Systems, Inc.

Founded in 1983, Primavera Systems, Inc., is the leading worldwide provider of project management, control and execution software and services. This year, the company celebrates its 20th anniversary. Primavera's innovative solutions help more than 42,000 companies around the globe achieve business success through project success. Primavera products maximize return on investment by speeding time to market, establishing best practices, assessing risk and providing project visibility to all participants, from executives to team members. The company serves a broad range of industries, including aerospace and defense, automotive, chemical processing, construction, energy, engineering, financial services, manufacturing, pharmaceuticals, software development, technology, telecommunications and utilities.

Primavera is headquartered in Philadelphia (Bala Cynwyd), Pennsylvania, with offices in Chicago, New Hampshire, San Francisco, London and Hong Kong. Visit Primavera at www.primavera.com

Primavera and Primavera Expedition are trademarks of Primavera Systems, Inc. All other trademarks mentioned herein are the property of their respective owners.

L. Kathryn Lee
Public Relations Specialist
Primavera Systems
610.949.6509 (ph)
610.949.6957 (fax)
klee@primavera.com

More from Non-Industrial Products