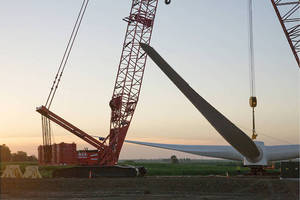 Dawes Rigging & Crane Rental Helps Raise Iowa's Largest Wind Farm-and Energy Profile

Want to see which way the renewable energy wind is blowing? Check with Iowa. No longer a novel sight, wind farms in Iowa are becoming as commonplace as the windy farmland they are built on. And Mortenson Construction, partnered with Dawes Rigging & Crane Rental, brings the power to raise many of them.

As of June 2011, the U.S. Department of Energy ranked Iowa second in the country with respect to installed wind power capacity, with 3,675 megawatts currently in service. Only Texas has more, at 10,135 megawatts of installed capacity. The Rolling Hills Wind Energy Center project in Massena, in southwestern Iowa, is the largest wind turbine project ever built in the state of Iowa and one of the largest in the country. Consisting of 193 wind turbines each with a rated output of 2.3 megawatts (MW), the Energy Center's maximum capacity will be 444 MW, which is enough energy to power 190,000 homes.

A $425,000,000.00 project, Rolling Hills was developed and is owned by MidAmerican Energy of Des Moines, Iowa. The project contractor is Minneapolis-based Mortenson Construction, considered one of the premier wind turbine erection contractors in the country. The company proudly refers to Rolling Hills as their "Century Project," meaning it is their 100th wind farm project and the largest so far.

Crane power for wind power

From a distance they look like giant toy pinwheels, but the huge turbines take months to erect and require some heavy-duty lifting power. In this case, the power came from Dawes Rigging & Crane Rental Corp., headquartered in Milwaukee, Wis., a proud member of The ALL Family of Companies. Mortenson hired Dawes to supply nine cranes, including three Manitowoc 16000WA (wind attachment) crawlers, the premier crane for wind turbine construction.

All of the 193 wind turbines for the Rolling Hills project are Siemens model SWT 2.3-101. The nacelle, which sits atop the tower and includes most of the working parts of the turbine, weighs 82 metric tons. The erected hub height-the distance from the turbine base to the rotor shaft-is 262 feet. The rotor weighs 62 metric tons, and the tower itself weighs 162 metric tons. Each blade is 161 feet long, and the overall rotor diameter is 331 feet.

These huge wind turbines are nearly twice the height of Niagara Falls, so it's no small feat to erect even one. Dawes brought some true beef from the ALL Family fleet to do the lifting, starting with the three 440-ton Manitowoc 16000WA crawlers.

The Manitowoc 16000 Wind Attachment

Manitowoc introduced the WA, or wind attachment, for the Manitowoc 16000 in 2010. The attachment uses the base 16000 model crane, adds a little more counterweight, a couple of heavier-duty boom inserts, and a stronger extended upper boom point (often referred to as the wind tip) for a new configuration to give the crane significantly enhanced lift capability-by up to 40%-when working at short radii, as is often required in wind turbine erection. Erecting these large turbines requires cranes with greater capacity and reach, which is exactly what the Manitowoc 16000WA wind attachment offers. It allows the same 16000 model to lift and install anything from the older and smaller 1.5-MW turbines to the newer 2.5-MW and larger wind turbines on towers between 262 feet and 279 feet.

The 16000WA crawler cranes are quick and easy to assemble and disassemble and are easy to transport. That came in handy on the Rolling Hills site, where experienced crews from Dawes have been onsite since the job began to disassemble, move, and reassemble the cranes around the site as the turbines go up. Scott Jerome, senior branch manager at the Dawes Kaukauna branch, says that Dawes' expert crews have been moving not only their own cranes for Mortenson, but also a few other machines on the site. "Countless moves so far have been done safely, cost effectively, and in time frames meeting or exceeding Mortenson's requirements," Jerome adds.

Dawes' three 16000s at Rolling Hills were configured with 292 feet of main boom and a 24.9-foot extended upper boom point, or wind tip. In addition, the Model 16000WA offers superior line pull, which offers power and speed for wind turbine installation. The 16000's line pull is 35,000 lbs-the best in its class.

The wind attachment eliminates the need for longer fixed or luffing jibs. With a luffing jib, the cut-off wind speed for safe operation is much lower than that of just a boom and wind tip. The use of luffing jibs can often cause delays when erecting wind turbines, as by its very nature, the work takes place in windy locations.

Rounding out the crane cast:

Two [2] Manitowoc 2250 Series III crawlers (300 ton)

Used to unload all heavy wind turbine components at each turbine location, the 2250s are also used to set the base and lower tower sections. The 2250 has been the most-used erection machine for placing the can base and lower can (tower sections) at wind turbine sites nationwide since the advent of the 1.5-MW turbine 10 years ago.

One [1] Manitowoc 888 Series II crawler (230 ton)

The 888 is being used at the wind turbine lay-down yard to unload and reload turbine components as they come in and also for distribution on the project site. The 888 is also used as a failsafe for hub and rotor construction at individual turbine sites that have space limitations or where traveling with the load is required.

Two [2] Grove RT875E rough terrain cranes (75 ton) and one [1] Link-Belt RTC8090 Series II rough terrain crane (75 ton)

These RT cranes perform general on-site lifting and are also used for tailing the hub/rotor lift. They are also used during the civil phase of the project to construct the concrete foundations for the turbines.

Great partners for great projects

"Dawes and the great renewable energy group team at Mortenson have developed an extraordinary working partnership," says Scott Jerome. He adds, "I'm sure they'd tell you that Dawes has supplied them with the latest model 'state of the lifting art' cranes for this high profile project and that Dawes offers top-notch support every step of the way."

As part of the ALL Family of Companies, Dawes offers the most technologically advanced cranes in the industry, all meticulously maintained in ALL and Dawes' own service shops. Lift planning service is always free to customers, often employing ALL's 3D Lift Plan lift simulation and planning software from A1A Software. The 3D Lift Plan improves lift safety and accuracy with tools that offer foresight and real-time lift parameters. Jerome explains, "It gives our lift-planning experts the ability to calculate distances, visualize every detail, and simulate the entire lift-saving countless dollars and man-hours. And Dawes offers decades of experience and safety planning as well."

About Dawes Rigging & Crane Rental

Dawes Rigging & Crane Rental is a member of the ALL Erection & Crane Rental Corp. Family of Companies, North America's largest privately held crane and lift equipment rental and sales company. Based in Milwaukee, with branches in Madison, Elk Mound, and Kaukauna, Wis., Dawes is a certified dealer of new equipment for Broderson, Elliott, Genie, Gradall, JLG, Link-Belt, Lull, National Boom Trucks, Peiner, Potain, Skyjack, Sky Trak, Snorkel, Shuttlelift, and Terex for Wisconsin.

For further information, please contact Dawes' Milwaukee headquarters at (800) 236-5335 or (414) 453-5335. Send correspondence to Dawes Rigging & Crane Rental, Inc., 805 S. 72nd Street, Milwaukee, WI 53214. www.dawescrane.com.


Related