Programming System targets electronics manufacturing.
Press Release Summary: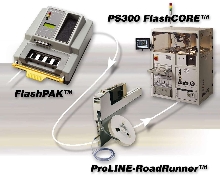 FlashCORE high-speed, gang desktop programming system is suited for prototype and production programming environments. Memory board removes barriers to programming high density devices, while FlashCORE Firmware v5.05 provides memory management and introduces Cyclical Redundancy Check security code. TaskLink for Windows v5.2 offers interface tool for creating and managing programming jobs.
---
Original Press Release:

Data I/O® Extends its Reach into Consumer Electronics Manufacturing with Enhanced FlashCORE Programming Platform


Redmond, WA, February 24, 2004 - Data I/O® Corporation (NASDAQ: DAIO), the leading provider of manual and automated programming systems today announced a FlashCORE system upgrade, virtually removing all known barriers to High-Density flash device programming.

Growth in volumes of High-Density flash is being driven by market demand for cellular handsets, mobile devices and personal electronics products. Rapidly growing desire for rich color and multimedia features is driving Flash densities to 1GB and beyond. Manufacturers meet these market requirements by increasing densities and introducing 'stacked' packages that include RAM, logic or multiple flash devices in one package.

Performance Enhancements
Designed to scale and adapt to changing device technologies, the FlashCORE programming architecture is evolving to meet these challenges of ever increasing device densities and the added complexity of multichip packages - 2 or more devices within one package, each requiring a programming operation during manufacturing.

The High-Density enhancements include improvements in 3 aspects of FlashCORE systems, all available as easy upgrades to existing systems:

o An enhanced FlashCORE memory board that virtually removes any barriers to programming even the highest density devices on the market today

o FlashCORE Firmware version 5.05 provides memory management for FlashCORE programming systems, and introduces Cyclical Redundancy Check (CRC) security code, which goes beyond a simple checksum in assuring complete and accurate placement of data within a programmed device.

o A feature upgrade to version 5.2 TaskLink for Windows, Data I/O's signature software interface tool for creating and managing programming jobs. TaskLink provides detailed device programming features that, in many cases, can truly invoke the unique characteristics of the end product. These may include 'special data' features in some devices, serialization options to assign a unique ID in a consumer product, or file translation options to customize the delivery of data to devices.

The 'Connected Programming Strategy' provides one consistent programming technology from design through manufacturing, assuring high quality products, and speeding time to market.

AMD Mirrorbit flash families, Intel's StrataFlash® wireless flash memories, key Flash devices from Atmel, Fujitsu, Sharp, ST Microelectronics, and NAND Flash from Samsung and SanDisk can be programmed on the Data I/O FlashPAK programmer at very high speeds for product prototyping, new product introduction, and medium volume production. The same devices are programmed in high volume on the ProLINE(TM) RoadRunner system and PS300(TM) FlashCORE(TM) offline systems, based on the FlashCORE programming architecture.

Product and Upgrade Availability
New FlashCORE based programming systems incorporating these enhancements will be available to ship to customers worldwide in March 2004. Software and hardware upgrades will also be available in March for customers using traditional FlashCORE systems. All upgrades are compatible with previously released device support, so upgrading is seamless.

FlashPAK customers on Annual Programmer Support contracts will receive the software enhancements automatically as a benefit of that program.

FlashPAK(TM) Programming System: Optimized for High-Density Flash Device Programming
Data I/O FlashPAK is a high-speed gang desktop Programming System for prototype and production programming environments. The FlashPAK Programming System is designed to program the leading High-Density flash memory and microcontroller devices at near theoretical minimum programming times and at the lowest cost per programmed part. FlashPAK complements the RoadRunner and PS300 systems, and fulfills the Data I/O Connected Programming Strategy, by providing consistent use of programming architecture and algorithms from initial design through prototype and production.

ProLINE-RoadRunner(TM): The world's fastest and most cost effective in-line programming system
The ProLINE-RoadRunner an automated in-line programming feeder, is targeted for high-volume users of High-Density flash memory devices and microcontrollers, including cellular phone, automotive, and consumer electronics manufacturers. The RoadRunner removes devices from tape, programs two to four devices in parallel, then delivers the programmed parts to the pick-up point of the placement machine.

PS300(TM) FlashCORE(TM) Automated Programming System for high volume programming
The PS300FC automated programming system accommodates up to twelve programmers (up to 48 programming sites), surpassing any throughput currently available. Combining FlashCORE programmers with a high-speed handler, PS300 has a unique architecture that delivers the lowest programming cost in offline programming operations. This is accomplished by a combination of exceptional programming speed, reliable handler platform, system scalability, and software-based process control.

About Data I/O
Celebrating 30 years of innovative leadership in the device programming industry, Data I/O Corporation® (NASDAQ: DAIO) provides manual and automated device programming systems that specifically address the requirements of engineering and manufacturing operations. FlashCORE(TM) is the architecture behind a family of Programmers that deliver the highest throughput and lowest cost per programmed device. For Flash, Micro and Logic device support, The MultiSyte and UniSite families provide universal support and versatility to address a wide variety of programming needs. Data I/O Corporation is headquartered in Redmond, Washington, and has sales and service offices worldwide. For more information, see www.dataio.com or call 800-426-1045.

More from Sensors, Monitors & Transducers