Programming Software offers complete offline simulation.
Press Release Summary: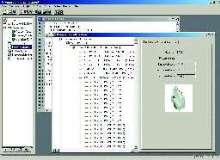 WAGO-IO-PRO CAA 759-333 is fully compliant with IEC 61131-3 open programming standard, across suite of languages, data types, and operators. Suited for WAGO 750 Series PFCs and 758 Series Industrial PCs, software also allows users to program/configure other Automation Alliance Partners hardware. It offers visualization elements, library management, online functionality, import of S5/S7 projects, code generators, and hierarchical graphical PLC configuration.
---
Original Press Release:

WAGO-IO-PRO CAA


Germantown, WI, May 2004 -- WAGO Corporation, in its continuing quest to provide the automation industry with innovative solutions, has introduced the new 759-333 WAGO-IO-PRO CAA (CoDeSys Automation Alliance compatible) programming software for the WAGO 750 Series of Programmable Fieldbus Controllers (PFC) and the 758 Series Industrial PCs (IPC). The software is fully compliant with the IEC 61131-3 open programming standard - across the entire suite of languages, data types and operators.

As a member of the CoDeSys Automation Alliance (www.automation-alliance.com), WAGO now offers its customers the ability to use the 759-333 programming tool to program/configure other Automation Alliance Partners hardware, i.e. drives, motion controllers, etc. "In the past, control engineers faced a variety of problems with propriety systems that required them to purchase two sets of software that made it difficult to make changes or incorporate upgrades easily," said Mark DeCramer, Advanced Electronics Product Manager at WAGO. "Now with the WAGO-IO-PRO CAA users can select various platforms/components, develop the network, and program them all with a single software solution from WAGO that is CoDeSys based and ready for future upgrades that can be easily downloaded right from the website."

The top ten key features of the new 759-333 WAGO-IO-PRO CAA include:
1) Complete Offline Simulation
2) Editors for Programming in Six Languages - instruction list, sequential function chart, function block diagram, structured text, ladder diagram and continuous function chart.
3) Visualization Elements
4) Library Management for User Defined Libraries
5) Complete Online Functionality - monitoring of all variables, writing and forcing of receipts into the PFC, debugging your complete project, interrupt-free online changes of POU's and data, power flow and sampling trace.
6) DDE Server, OPC Server
7) Import of S5/S7 Projects
8) Code Generators for the Most Common Industrial CPU's and Controllers
9) Hierarchical Graphical PLC Configuration
10) Run Time System in ANSI-C for Flow Control, Debugging and Communication

The WAGO-IO-PRO CAA is currently available from stock and is competitively priced at $600 USD list per site license, with no need to purchase hardware or software keys for operation.

WAGO is the worldwide leader in spring pressure connection technology designed to eliminate loose wires as a result of vibration and temperature cycling, as well as provide a highly reliable, corrosion resistant, and maintenance-free connection. Our complete line of spring pressure connection products include DIN rail mount terminal blocks, chassis mount terminal blocks, PCB mount terminal blocks, relays, signal conditioners, power supplies, surge suppressors, the WAGO I/O SYSTEM and more.

For more information contact WAGO at 1-800-DIN-RAIL, [email protected], or www.wago.com.