Programmer offers choice of 4 or 8 programming sites.
Press Release Summary: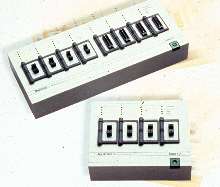 Universal, multi-socket ProWriter(TM) supports gang and set programming for wide range of device types, with support for programmable logic, memory devices, and microcontrollers. Sites can be linked using standard parallel cables to provide up to 48 programming sites, all controlled from one computer. Hands Free feature allows programming to start as soon as device has been inserted into socket and locked into position.
---
Original Press Release:

Data I/O Corporation Introduces ProWriter(TM) Multi-site Universal Programming System


Redmond, WA, September 16, 2002 - Data I/O Corporation, a leading provider of advanced device programming systems, today introduces the newest edition to their complete line of programmers, the ProWriter(TM). The ProWriter is a flexible programming solution for low and medium volume production environments.

The ProWriter is a universal multi-socket programmer supporting gang and set programming for a wide range of device types, with support for programmable logic, memory devices, and microcontrollers, including Flash-based microcontrollers.

A scalable solution for contract manufacturers or production teams with varying device mix and volume, the ProWriter system offers either 4 or 8 fully independent programming sites per unit. These sites can be linked using standard parallel cables to
provide up to 48 programming sites, all controlled from one computer. In addition, each site is completely independent, allowing a site to be skipped or removed while the rest continue to function uninterrupted.

"Hands Free" operation and LED feedback also reduce operator time by eliminating the need to return to the PC keyboard to start and monitor programming. The "Hands Free" feature allows programming to start as soon as a device has been inserted into the socket and locked into position. The intuitive use of LEDs indicates system and programming status at all times.

"With an intuitive software interface, minimum set-up time and maximum output, the ProWriter delivers the best return on investment," said Megan Miller, Product Manager for Programming Systems at Data I/O. "We are very excited to be offering electronics manufacturers a programmer that easily scales to meet growth in production volumes, while consistently optimizing throughput."

"In the current economy, successful electronics manufacturers have a focus on lean manufacturing, and constantly seek ways to increase productivity and reduce costs," said Bob Burns, General Manager of Programming Systems at Data I/O. "ProWriter programming systems help manufacturers realize the productivity gains that assure rapid time to market with new products."

About Data I/O.
Celebrating 30 years of innovative leadership in the device programming industry, Data I/O Corporation (NASDAQ:DAIO) provides manual and automated device programming systems that specifically address the requirements of engineering and
manufacturing customers. By combining leading edge technology and a deep understanding of our customers' business processes, Data I/O is creating systems that dramatically improve return on investment. New systems include the world's fastest and most cost-effective inline and manual Flash programming solutions, ProLINE-RoadRunner(TM) and FlashPAK(TM) Networked Programming System. The company's Connected Programming Strategy optimizes programming from design through manufacturing by creating a networked solution that connects engineering to manufacturing, business processes to business systems, and the firmware supply chain to its users. Data I/O Corporation is headquartered in Redmond, Washington, and has sales and service offices worldwide.

For more information, visit us at our website: www.dataio.com

Related