Programmable Wire Stripper has benchtop form factor.
Press Release Summary: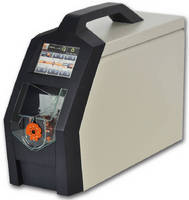 Requiring no mechanical adjustments to process different wire sizes, UniStrip 2300 features color touchscreen interface where user selects desired wire size from pre-programmed library and all parameters, including cutting diameter, clamping pressure, and blade wayback are automatically set. All settings can be password protected and role-based functionality controls who changes data and configurations. Cycle time is 0.35 sec.
---
Original Press Release:

UniStrip 2300: a New Dimension in Benchtop Wire Stripping



The UniStrip 2300 Programmable Stripping Machine does not require any mechanical adjustments to process different wire sizes. Using the color touchscreen interface, the user selects the desired wire size from the pre-programmed library and all parameters (cutting diameter, clamping pressure, blade wayback, etc.) are automatically set.

The innovative UniStrip 2300 is the only machine in its class that is fully programmable. The intuitive user interface makes it easy for the novice user to learn and operate the machine in minutes. All settings can be password protected and different user levels make it possible to control who makes changes to program data and configuration settings.

After calling up the desired wire size, the operator inserts the wire into the machine to initiate the stripping cycle. The sensitivity of the trigger sensor is automatically set according to the selected wire size, allowing very fine wires to be processed without requiring the optional foot pedal. The short cycle time of 0.35 sec makes the UniStrip 2300 suitable for high volume production while its programmability and instant changeover make it invaluable for low volume, high mix requirements.

The UniStrip 2300 offers precision mechanics, short cycle times and excellent accessibility for short break-out lengths. High accuracy and repeatability of the programmed values make the UniStrip 2300 extremely reliable. Customer tests have shown that its user-friendly operation, mechanical precision and short cycle times have resulted in significantly improved productivity and higher process reliability.

More information can be found at www.schleuniger-na.com. Should you have any questions, please e-mail [email protected] or call (603) 668-8117.

Schleuniger is one of the globally leading companies for wire processing solutions and is specialized in high-precision stripping & crimping technology. Manufactured in Switzerland and Germany, Schleuniger machines and equipment are used in various industries and markets all over the world. The Schleuniger Group has sales & service companies in Germany, USA, Canada, Mexico, Slovakia, Japan and China and a world-wide sales & service network with long-term partners in more than 40 countries. The Schleuniger Group represents the division "Wire Processing" of the METALL ZUG GROUP. The holding company METALL ZUG AG is listed at the Swiss stock exchange (SIX Local Caps, Zurich, Switzerland).