Programmable LCD Switch meets needs of broadcast market.
Press Release Summary: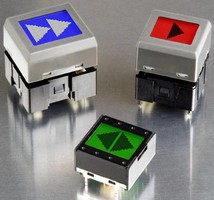 Offered in single, bicolor, and RGB versions, SmartSwitch(TM) incorporates 36 x 24 pixel resolution LCD with 13.9 x 10.6 mm viewing area. Integral diffuser promotes even distribution of illumination. Able to be programmed to display infinite variety of text, graphics, or moving images, product is suited for ues in systems where size is of issue and user interface is required. Typical forward current is 15 mA, and typical power dissipation is 130 mW.
---
Original Press Release:

NKK Introduces Compact Smartswitch(TM) Specifically for Broadcast Market



SCOTTSDALE, Ariz. (Sept. 19, 2006) - NKK Switches, an industry leader in the design and manufacturing of electromechanical switches, introduces a new SmartSwitch(TM) that is 25 percent smaller than industry standard size, thus requiring less panel area real estate. These compact programmable LCD switches are ideal for systems and designs where size is an issue and user interface is required.

The new compact SmartSwitch, which is distinguished by its smaller footprint, features the same electrical and performance specifications of the original SmartSwitch. Its reduced size expands the SmartSwitch's potential to meet the needs of the broadcast market.

"Initially, we expect design engineers will specify the compact SmartSwitch for routers that will be used in space-constrained applications like mobile production vans and other small broadcast and production facilities," said Kiyoko Toyama, president of NKK Switches.

In addition to the compact SmartSwitch, NKK's entire SmartSwitch line is now available in versions featuring lower energy consumption than the original versions. The improved line's typical forward current (If) is rated 15mA and typical power dissipation (PD) is 130mW. This improved SmartSwitch line consumes half the energy as its predecessor, which is important for panel applications. The new SmartSwitch line also features brighter LED illumination enabled by a redeveloped diffuser that allows a more even distribution of illumination.

The SmartSwitch can be specified in single, bicolor and RGB versions. With the RGB version, design engineers are able to create virtually any color illumination with one switch. Principle to the success of RGB illumination in NKK's SmartSwitch is the quality of red, green and blue LEDs used in the packaging. With high quality LEDs for superior color matching, the SmartSwitch enables designers to create customized control panels with project specific colors, including RGB white. The RGB LED option also allows for low power use and low heat solution.

NKK's SmartSwitch can be programmed to display an infinite variety of text, graphics, or moving images. The compact SmartSwitch's LCD is a wide, high-contrast viewing area of 13.9 X 10.6 mm with a 36 X 24 pixel resolution to maximize clarity. Mechanical life and electrical life are both rated at 1,000,000 operations minimum.

Suited for a wide variety of applications, the SmartSwitch is essential for any application requiring user interface. Displaying industry-specific text and graphics with real-time sequencing, the SmartSwitch simplifies and improves complex, multi-decision operations. Possible applications include industrial control panels, communication systems, audio-video broadcast workstations and simulation equipment.

A leading designer and producer of electromechanical switches, NKK Switches offers one of the industry's most extensive selections of illuminated, process sealed, miniature, specialty and surface mount switches. The company manufactures more than four million toggle, rocker, pushbutton, slide, rotary and DIP rotary, keypad and keylock switches. NKK Switches maintains a complete network of qualified representatives and distributors through the United States, Canada, Central and South America, Europe and Asia.

NKK Switches is keenly aware of the myriad of issues that are covered under the RoHS directive. With more than 50 years of experience in the switch industry and as an environmentally-conscious company, NKK is committed to not only providing high quality products and services, but also providing environmentally safe products for its valued customers. NKK continues to lead the industry in responding to the needs of the marketplace with innovation, high reliability and a commitment to excellence.

For more information, contact NKK Switches, 7850 E. Gelding Dr., Scottsdale, AZ 85260. Phone 480-991-0942. Fax 480-998-1435. Or visit the NKK Switches Web site at www.nkkswitches.com.

Emily J. Butler
Assoc. Director PR
Martz Agency
480.998.3154 p
480.998.7985 f

Lee Pistor (NKK Switches).............................................................480-991-0942

More from Adhesives & Sealants