Programmable Heater features explosionproof design.
Press Release Summary: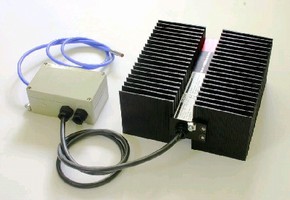 Suited for hazardous areas, Programmable Smart Heater can be fitted with elements capable of outputs from 500 W to 2 kW, making it suited for applications up to 300°F. It includes digital PID controller, as well as RS485 serial networking interface for programming and to network heater to PC for monitoring and diagnostic purposes. Approved for worldwide use by IEC, ATEX, GOST, and CSA, heater is suited for applications in chemical/petrochem, oil and gas plants.
---
Original Press Release:

Programmable Explosion-Proof Heater Brings New Precision and Compactness to Process Instrumentation Temperature Control



o ideal for higher temperature applications in chemical/petrochem, oil and gas plants
o approved for worldwide use, by IEC, ATEX, GOST and CSA

August 10, 2007 --- Process instrumentation engineers have an exceptionally compact and versatile solution for the precise regulation of air temperature inside instrument or analyzer enclosures with the launch of Intertec's 'smart' programmable heater for hazardous area applications. Compared with the common alternative of trace heating cables, the new solution is very much smaller and easier to install.

Approved for worldwide Zone 1 use, by IEC, ATEX, GOST and CSA, Intertec's smart heater consists of a heating element plus a networkable digital PID controller with encapsulated electronic circuitry. Dual temperature sensors are supplied: one intrinsically safe sensor that can be freely positioned in the enclosure or cabinet, another embedded in the heater body. These sensors allow the system to control air temperature precisely while also ensuring safety in hazardous areas by limiting the heating element's maximum surface temperature to the required 'T' rating - from T3 to T6 (200 to 85 degrees C).

A range of different styles and sizes of elements including finned, block and fluid heaters are available - as well as types that mount directly onto ANSI/ISA standard SP76 analyzer substrates - to suit the application requirement.

The power density offered by Intertec smart heaters can be very high, as systems can be fitted with elements capable of outputs from 500 W to 2 kW. By comparison, trace heating cables offer typical outputs of around 10 to 30 W per metre.

This powerful heating capability makes smart heaters ideal for higher temperature control applications of up to 150 degrees C (300 F). This upper limit, combined with the system's control over surface temperature, makes the heater suitable for many instrument and analyzer applications with difficult media in hazardous chemical, petrochemical, oil and gas processing areas.

Whatever the output power and type of heating element selected, systems are supplied as an approved and certificated system for use in Zone 1 environments (and/or Class I, Division 1 areas for USA applications). Compared with today's common approach of building explosion proof heating systems from components such as trace heating cables, controllers, and terminations, no costly inspections and certification processes are required.

As standard, a smart heater comes with an RS485 serial networking interface to program the heater, and to network heaters to a PC for monitoring and diagnostic purposes. Optionally, a USB or RS232 interface converter can be provided. Systems are supplied with a comprehensive PC software package.

The PID controller is very compact and measures just 5.7 x 12.5 x 8 cm (2.2 x 4.9 x 3.1 inches). These compact dimensions make it very easy to install in instrument enclosures compared with long lengths of trace heating cable.

In addition to supplying the heater, Intertec can supply the complete instrument enclosure system with instrument, manifold, tubing etc - ready for hook-up on site.

Intertec has the broadest portfolio of enclosure, cabinet and shelter solutions for protecting field instrumentation in the world. The range includes GRP enclosures and protective shades in a range of shapes and sizes, GRP cabinets and shelters for use in almost any climate or weather conditions, accessories including heating systems, and custom design and turnkey system assembly services. Intertec supplies most of the world's major oil, gas, petrochemical and chemical organizations, from its network of manufacturing and sales offices worldwide, and via a large network of agents and distributors. To date, Intertec has supplied well over half a million protection systems worldwide. www.intertec.info

INTERTEC Instrumentation Ltd, 255 Henry Drive, Sarnia, Ontario N7T 7H5, Canada.
t: 519-337-2773; e: info@intertec-inst.com

INTERTEC Instrumentation Inc., PO Box 421891, 11116 West Little York, Building 1, Houston, Texas 77242-1891, USA.
t : 832 243 0790; e: info@intertec-inst.com

INTERTEC-Hess GmbH, Raffineriestr. 8, D 93333 Neustadt, Deutschland.
t: +49 9445 9532 0; e: info@intertec-hess.com

INTERTEC Instrumentation Ltd, Unit 5 Verwood Industrial Estate, Black Hill, Verwood BH31 6HA, UK. t: +44 12028 222 77; e: sales@intertec-inst.co.uk

More from Agricultural & Farming Products