Programmable Electronic Loads suit 0 V applications.
Press Release Summary: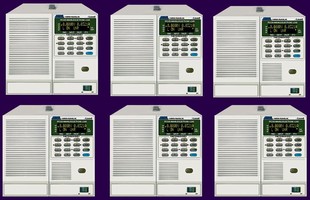 Addressing requirements of single-cell fuel cell testing, battery testing, power electronics, and photovoltaic testing, ZVL eLoad Series comes in 60/100/150/200/300 W power ratings, 10/150 Vdc models, and 20 A or 40/60/80/100/200 Adc current ratings. Automated testing and remote programming is achieved via LabVIEW and LabWindow drivers. Other features include CV/CC/CR/CP/Pulse operating modes, 2 FS ranges, and Co-resident GPIB IEEE-488.2/SCPI and RS-232 interface connectivity.
---
Original Press Release:

Zero Volt eLoad-Another Industry First for AMREL



San Antonio, TX- AMREL/AMERICAN RELIANCE introduces the industry's widest selection of Zero Volt Programmable Electronic Loads (ZVL eLoad Series) at Fuel Cell Seminar 2007. Understanding the unfulfilled requirements of 0-volt applications, and the limitations of the products available, AMREL responded in their customer-driven fashion, by substantially increasing their Zero-volt eLoad Series.

The trend of increasing energy demands and the evolution of renewable energy technology has spawned a diversity of test and research applications in the sectors of photovoltaic/solar energy, fuel cells and power electronics. Requirements for lower operating voltages and higher currents are becoming ever so important, as the search for the balance point of power efficiency and performance criteria continues. The ranges now available with AMREL's Zero-volt eLoad Series will be able to address many of these needs.

The ZVL eLoad Series is now available in 60W/100W/150W/200W/300W power ratings, 10Vdc/150Vdc models and 20A/40Adc/60Adc/80Adc/100Adc/200Adc current ratings. AMREL's ZVL is the only 0-volt load offering a complete standard series, with the capability for customization of power/voltage/current ratings. Designed specifically to address requirements for single cell fuel cell testing, battery testing, power electronics, photovoltaic testing, and other 0-volt load applications, and spanning across the production, R&D/Lab, VAR, and educational institution sectors, AMREL once again demonstrates its commitment to providing industry specific solutions to a constantly changing market.

The ZVL's 0~10Vdc analog programming, external 0~10Vdc Imon (current monitor) and Vmon (voltage monitor) signals, and Remote Sensing, along with 20Adc ~ 200Adc loading @ 0Vdc can be easily interfaced with AMREL's new FRA (Frequency Response Analyzer) to provide an effective, low cost total solution package for impedance measurement testing of single-cell fuel cells/batteries. A perfect fit for fuel cell/battery test system integrators.

AMREL's feature-packed ZVL offers CV/CC/CR/CP/Pulse operating modes, 2 Full-scale ranges, standard Co-resident GPIB IEEE-488.2/SCPI & RS-232 interface connectivity, and OV/UV/OC/UC/OP/UP programmable protection. Automated testing and remote programming is achieved via standard LabVIEW & LabWindow drivers. To avoid costly calibration expenses and possible downtime, the ZVL is easily calibrated in a matter of minutes through closed-case calibration, realizing its ROI in a matter of months. Users can jumpstart test applications via AMREL's latest release of the eLoad Virtual Panel, and begin testing application today to leapfrog competition by shortening the time to market tomorrow.

AMREL/AMERICAN RELIANCE, Inc. is committed to designing, developing, and manufacturing high quality programmable power supplies and electronic loads for industrial and military ATE markets. AMERICAN RELIANCE accommodates individual customer needs by offering one of the market's widest selections of programmable power products available, as well as providing custom design modifications.

For more information about AMREL's Zero-Volt eLoad including future model releases, as well as AMREL's complete line of Power Products, stop by AMREL's Booth 444 at the Fuel Cell Seminar 2007, go to www.AMREL.COM, call 1(800) 654-9838 or E-mail your request to ariinfo@amrel.com

Contact: Anthony Visnjevic
Marketing
AMREL
Phone: (626) 443-6818
E-Mail: anthonyv@amrel.com

More from Electrical Equipment & Systems