Sensors / Detectors / Transducers
Programmable Digital Hall Effect Sensor instegrates EEPROM.
Press Release Summary: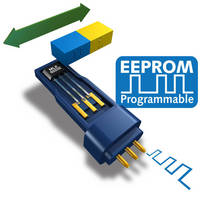 With integrated EEPROM that allows re-programmable magnetic switching thresholds, including hysteresis, MLX92232 is constructed on mixed signal CMOS process technology and can be programmed to meet any Hall effect Switch or Latch specification for direct replacement of existing Hall effect sensors. Each AEC-Q100-qualified IC comes in 3-pin SIP or TSOT23 package featuring integrated Hall sensor element with offset cancellation mechanism, voltage regulator, and open-drain output driver.
---
Original Press Release:

Programmable Digital Hall Effect Sensor from Melexis Delivers Best in Class Performance, Size and Cost



Tessenderlo, Belgium – Melexis Technologies NV introduces a new programmable Digital Hall effect sensor with superior functionality and performance. The MLX92232 features EEPROM memory allowing re- programmable magnetic switching thresholds including hysteresis. It can easily be programmed to meet any Hall effect Switch or Latch specification for direct replacement of previous generation or competitors Hall effect sensors. The MLX92232 can be used to replace many inventory SKUs resulting in leaner manufacturing processes, reduced quality conformance expenses and lower inventory carrying costs. A novel 32 bit unique ID code in each sensor gives lifetime traceability.



Constructed on a proprietary mixed signal CMOS process technology, the MLX92232 is the first customer field programmable sensor in this family of high accuracy devices. Each IC integrates a Hall sensor element with advanced offset cancellation mechanism, a voltage regulator and an open-drain output driver in industry standard 3 pin SIP and TSOT23 packages. The flexible programming capabilities use Melexis proven PTC (Programming Through the Connector) technology to enable end of production line calibration for finished sensor modules. This method allows compensation of mechanical assembly tolerances, material variations and magnet part to part variations. The industry benchmark programmable architecture enables high accuracy switching thresholds and an integrated factory programmed thermal compensation value. These features simplify manufacturing of precision, thermally stable sensor modules using low cost magnet materials while avoiding complex, expensive temperature testing.



Covering a wide operational voltage range (2.7V to 24V) and supporting an extensive operational temperature range (-40°C to +150°C), this AEC-Q100-qualified device is highly suited to use in demanding automotive and industrial settings. Output current limit, under-voltage lockout and thermal shutdown ensure its on-going reliability, while also lowering the overall bill of materials required. Among the MLX92232's target applications are seat positioning systems, clutch position sensors and brake light sensors.



The MLX92232's low voltage capability, differentiates it from other Hall effect switch solutions on the market, by allowing it to interface with microcontrollers and other digital ICs placed on supply lines at



For more information go to: www.melexis.com/calibrate



Contact Melexis

Marketing Communications

Peter Riendeau

Melexis Inc

15 Trafalgar Sq., Ste. 100

Nashua, NH 03063

USA

Tel: 603-204-2900

Fax: 603 578-1270

pre@melexis.com



Sales Leads

Susan Brocious

Melexis Inc

15 Trafalgar Sq., Ste. 100

Nashua, NH 03063

USA

Tel: 603-204-2900

Fax: 603 578-1270

sbr@melexis.com



About Melexis

Melexis Microelectronic Integrated Systems N.V. (Euronext Brussels:MELE) imagines, creates and delivers innovative mixed signal integrated circuits. Melexis ICs are driving green solutions that enable our customers to bring more energy efficient automotive systems to market. Melexis product portfolio addresses 4 classes of ICs; Sensor, Optoelectronic, Wireless and Actuators. Sensors include magnetic, MEMs, and sensor interface ICs. Optoelectronic products encompass linear arrays, single point sensors, infrared thermometers and CMOS wide dynamic range and night vision cameras. Wireless ICs focus on RKE, TPMS, ISM band applications, NFC, RFID reader and smart tag solutions. Actuator ICs cover LIN and CAN bus networking ICs and advanced BLDC motor driver technology. Melexis is proud of its participation toward reducing the human race's global environmental footprint.



For more information visit www.melexis.com



Issued by:

Mike Green

Pinnacle Marketing Communications Ltd

Tel: +44 208 4296 543

E-mail: m.green@pinnaclemarcom.com Web: www.pinnacle-marketing.com

Related