Programmable Detector senses invisible hydrogen flames.
Press Release Summary: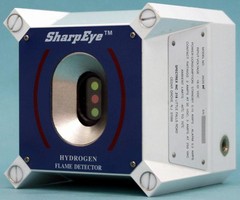 Designed for detecting water vapor at ranges to 100 ft, model 20/20SH features optical sensors and filters that offer optimal degree of spectral matching to radiant energy emitted by hydrogen fire and lowest degree of matching to non-fire stimuli. Programmable algorithms check ratio and correlation of data received by optical sensors. Applications include facilities that use hydrogen fuel cells, hydrogen gas generators, and hydroxyfuels.
---
Original Press Release:

Now You Can See Invisible Hydrogen Flames



Cedar Grove, NJ (January 17, 2007) - Spectrex Inc., the world's leader in the development and implementation of optical flame and gas detection and suppression systems, has launched its unique Hydrogen Flame Detector 20/20SH to address the need of a wide range of industrial and commercial facilities that use hydrogen fuel cells, hydrogen gas generators and hydroxyfuels.

Most of the existing optical flame detectors are designed for detection of hydrocarbon flames and are based on the fire's CO2 emission but cannot detect the hydrogen flames that emit in the water vapor (H2O) band and have no emission in the CO2 range. UV and some UV/IR optical flame detectors that can detect the hydrogen flame have a very limited range. Therefore, this special detector that includes sensors with special filters for the detection of hydrogen's main combustion product, water vapor, at an extended detection range (100ft /30m) has been developed.

The optical sensors and filters have been carefully selected to ensure the greatest degree of spectral matching to the radiant energy emitted by the hydrogen fire and the lowest degree of matching to non-fire stimuli. This highly advanced detector uses programmable algorithms, which check the ratio and correlation of data received by the optical sensors.

The microprocessor design allows for unique field programmability, making the 20/20SH a user-friendly diagnostic and maintenance tool for the high-risk industries. As the hydrogen community moves towards commercialization, the new emerging use of hydrogen for automotive transportation requires special safety measures for the unique refilling stations, storage tanks and special hydrogen fuel cells handling facilities.

About Spectrex Inc.
For over 25 years, Spectrex Inc. has been providing the market with the best detection and suppression systems and products that meet the highest customers' requirements for reliability, quality and operation in extremely tough environments.

Spectrex's competitive edge is based on its innovative capabilities and its unique technologies that are protected by more than 20 diverse international patents, including UV/IR and IR3 Optical Flame Detection, Flash-Type Open Path Gas Detection, EMF and SFE novel fire suppression technologies.

For more information about Spectrex Inc and its products, visit www.spectrex-inc.com, or contact Eric Zinn at 1(973) 239-8398 or 1(800) 452-2107 (Toll free within the US only).

More from Computer Hardware & Peripherals