Programmable DC Power Supplies range from 1.5-6 kW.
Press Release Summary: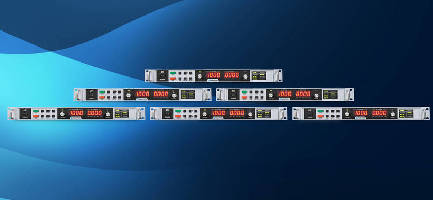 Featuring 1U, 1.75 in. high rack mount design, SL Series spans 70 models at power levels of 1.5, 2.6, 4, and 6 kW. Units offer programmable DC output voltage from 0–5 Vdc to 0–1,000 Vdc and programmable DC output current from 0–1.5 Adc to 0–250 Adc. Available with 208, 240, 380, 415, 440, or 480 Vac 3-phase input, all models come standard with monitoring and control from variety of sources, including front panel, computer interface, and isolated analog-digital I/O connector.
---
Original Press Release:

Now up to 6 kW in 1U! 17 New Models Added to SL Series Programmable DC Power Supply



Magna-Power Electronics, an industry leader in high-power programmable DC power supplies, announces the immediate expansion of its popular 1U SL Series product line to 6 kW.



The SL Series product range now spans 70 models at power levels 1.5 kW, 2.6 kW, 4 kW, and 6 kW all in a 1U, 1.75" high rack-mount form-factor.



With programmable DC output voltage ranges from 0-5 Vdc to 0-1000 Vdc and programmable DC output current ranges from 0-1.5 Adc to 0-250 Adc, the product line satisfies requirements in a variety of industries including: automated test equipment (ATE) system integration, automotive testing, oil and gas, remotely operated underwater vehicles, and aerospace systems testing.



Magna-Power introduced the SL Series product line–the company's first 1U power supply–in early 2013 in response to overwhelming demand from customers. "The expansion to 6 kW in 1U continues Magna-Power's long-standing commitment to offering industry-leading programmable power densities," explained Adam Pitel, Vice President overseeing worldwide sales and marketing. "This latest innovation is the result of continuous research and development work in power electronics and heat management, along with further advances in the company's internal manufacturing processes."



All SL Series models come standard with monitoring and control from a variety of sources, including: front panel, computer interface and an isolated analog-digital I/O connector. A Standard Commands for Programmable Instrumentation (SCPI) command set is supported, allowing easy ASCII text programming over a computer interface. In addition, an IVI driver is included for the Visual Studio programming environment along with a dedicated National Instruments LabVIEW™ and LabWindows™ driver. Additional computer interface options include LXI TCP/IP Ethernet (+LXI), IEEE-488 GPIB (+GPIB), USB and RS-485.



All SL Series models are available with three-phase input, including 208 Vac, 240 Vac, 380 Vac, 415 Vac, 440 Vac, or 480 Vac. 1.5 kW models are also available with a single-phase active PFC Universal Input (UI), allowing for an input voltage range spanning 85 Vac to 265 Vac.



The SL Series product line is designed and manfactured at the company's vertically integrated manufacturing facility in Flemington, NJ USA. Some 1.5 kW models are in-stock, while build-time is 2 weeks for all other SL Series models and power levels.



About Magna-Power Electronics

Magna-Power Electronics designs, and manufactures robust current-fed power supplies in the USA that set industry standards for quality, size, and control. Its products can be found around the world feeding power to national laboratories, universities, and a wide range of industrial sites. The company's experience in power electronics is reflected in its 1.5 kW to 2000 kW+ product line, quality service, and reputation for excellence.



For more information contact

Bob Collins

Magna-Power Electronics Limited

T. +44 1189 663143

M. +44 7467 947727

E.

[email protected]



Skype: mpe.bcollins

www.magna-power.com