Programmable DC Power Supplies come in 600 W, high-voltage models.
Press Release Summary: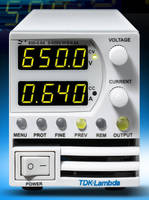 Achieving up to 89% efficiency, bench-/rack-mount Z+ series includes models offering output voltage ratings of 0–160 Vdc, 0–320 Vdc, and 0–650 Vdc; output current ratings of 0–4 A, 0–2 A, and 0–1 A; and output power rating of 640–650 W. Programming can be accomplished via front panel controls or remotely using USB, RS232/485, or analog control interfaces. Able to operate in constant current or constant voltage modes, models accept universal 85–265 Vac input and support parallel connection.
---
Original Press Release:

600W High Voltage Models Finalize Extensive Z+ Series of Programmable Power Supplies



TDK Corporation announces the introduction of 600W high voltage models to TDK-Lambda's Z+ series of programmable DC power supplies.  This extensive series is now available with output voltages of 0-10, 0-20, 0-36, 0-60, 0-160, 0-320 or 0-650VDC and with output powers of 200, 400, 600 and 800W.  These higher voltages address the requirements for applications such as deposition processes, remotely operated underwater vehicles, ATE systems as well as general laboratory and industrial use.



The TDK-Lambda Z+ 600W high voltage models have the same features and compact dimensions (2U high and 2.76" wide) as the existing models and achieve efficiencies of up to 89%.  The units can operate in either constant current or constant voltage modes and accept a universal 85-265VAC input.  Up to 6 units can be connected in parallel (master-slave configuration), or 2 identical units in series with external diodes.



All the Z+ series can be programmed via the front panel controls or remotely using the USB, RS232/485 or analog control interfaces.  Optional LAN, GPIB (IEEE488) and isolated analog programming interfaces are also available.



CE marked for the EMC, Low Voltage, and RoHS Directives, the Z+ series conforms to EN55022/EN55024 as well as IEC/EN61326-1 for conducted (FCC part-15-B) and radiated (FCC part-15-A) EMI.  Safety certifications include UL/EN/IEC61010-1 and the series is designed to meet UL/EN60950-1.  All models carry a five-year warranty.



More information can be obtained at the following TDK-Lambda Americas website, http://www.us.tdk-lambda.com/lp/products/zplus-series.htm, or by calling 800-LAMBDA-4.  Product availability for the Z+ Series can be found via the link to TDK-Lambda's distributor network (see "Check Distributor Stock to Buy") at http://www.us.tdk-lambda.com/lp/.



Major applications

Deposition processes, remotely operated underwater vehicles (ROV), ATE systems and general laboratory / industrial use



Main features and benefits

• Built in analog, USB and RS232/485 interfaces

• Optional LAN, GPIB and isolated analog programming

• Bench or rack mount

• Constant current or voltage operation



Major specifications

Model  Z+ 600W High Voltage

Input voltage range Vac 85 to 265Vac

Output voltage range Vdc 0 - 160V 0 - 320V 0 -650V

Output current range A 0 – 4A 0 – 2A 0 – 1A

Output power W 640 to 650W

Mounting type - Bench or rack mount

Size (L x W x H) mm Standard body: 83 (2U) x 70 x 350mm

Wide body : 83 (2U) x 105 x 350mm



About TDK Corporation

TDK Corporation is a leading electronics company based in Tokyo, Japan. It was established in 1935 to commercialize ferrite, a key material in electronic and magnetic products. TDK's portfolio includes electronic components, modules and systems* which are marketed under the product brands TDK and EPCOS, power supplies, magnetic application products as well as energy devices, flash memory application devices, and others. TDK focuses on demanding markets in the areas of information and communication technology and consumer, automotive and industrial electronics. The company has a network of design and manufacturing locations and sales offices in Asia, Europe, and in North and South America. In fiscal 2014, TDK posted total sales of USD 9.6 billion and employed about 83,000 people worldwide.



* The product portfolio includes ceramic, aluminum electrolytic and film capacitors, ferrites, inductors, high-frequency components such as surface acoustic wave (SAW) filter products and modules, piezo and protection components, and sensors.



About TDK-Lambda Corporation

TDK-Lambda Corporation, a group company of TDK Corporation, is a leading global power supply company providing highly reliable power supplies for industrial equipment worldwide. TDK-Lambda Corporation meets the various needs of customers with our entire range of activities, from research and development through to manufacturing, sales, and service with bases in five key areas, covering Japan, Europe, America, China, and Asia.



For more details, please pay a visit to http://www.tdk-lambda.com/



Contacts for regional media

Region Contact  Phone Mail

Americas

Tom Tillman

TDK-Lambda Americas

(619) 575 4400

tom.tillman@us.tdk-lambda.com