Profibus System offers data rates up to 12 Mbps.
Press Release Summary: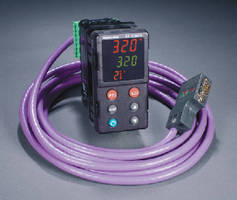 Featuring EZ-ZONE® PM and EZ-ZONE RM integrated temperature controllers, PROFIBUS DP facilitates plant design and eliminates hard wiring. System features status LEDs, cycle read/writes up to 135 data points, and acyclic read/write capabilities. With generic station description file editor, users can create customized data exchange packets. Additional features include support for DP-Version 0 and 1 functionalities, 16 or 32 bit formatting, and independent temperature units in °C or °F.
---
Original Press Release:

Watlow® Introduces PROFIBUS DP with EZ-ZONE® PM and EZ-ZONE RM Integrated Temperature Controllers



St. Louis - Watlow®, a designer and manufacturer of electric heaters, controllers and temperature sensors, now offers PROFIBUS DP (Decentralized Peripherals) with
EZ-ZONE® PM and EZ-ZONE RM integrated temperature controllers. PROFIBUS (Process Field Bus) is a standard for field bus communication in automation technology and was first promoted (1989) by BMBF (German department of education and research).

Watlow's PROFIBUS DP offering with EZ-ZONE PM and EZ-ZONE RM integrated controllers simplifies plant design, eliminates hard wiring and requires less hardware, leading to faster commissioning and lowered costs. It supports better diagnostics, so commissioning is much faster and helps achieve better productivity and higher product quality through the delivery of better and more timely data to operations and management staff.

Watlow's EZ-ZONE PROFIBUS DP features status LED and data rates up to 12Mbps. Features that differentiate Watlow's offering from other industry products are cyclic read/writes up to 135 data points (244 bytes) as well as acyclic read/write capabilities. Also included is a complimentary generic station description (GSD) file editor for creating customized data exchange packets, support for both DP-Version 0 and DP-Version 1 functionalities, 16 or 32 bit formatting and independent temperature units in Celsius or Fahrenheit.

About Watlow

Since the company's founding in 1922, Watlow has brought its thermal expertise to numerous applications, including semiconductor, photovoltaic, analytical, medical, clinical, plastics processing, foodservice equipment, packaging, aerospace and others. Headquartered in St. Louis, Missouri, Watlow is the largest custom designer and manufacturer of industrial heaters, sensors, controllers and software with offices and manufacturing facilities around the world.

For additional information call your nearest Watlow representative:

Watlow

Phone: 1+ (800) WATLOW2, 1+ (314) 878-4600

Fax: 1+ (877) 893-1005, 1+ (314) 878-6814

Internet: www.watlow.com

Email: info@watlow.com

Australia, +61-3-9335-6449 China, +86-21-3381-0188 France, +33 1 4132 7970 Germany, +49 (0) 7253-9400-0 Italy, +39 (0) 2 458-8841 Japan, +81-3-3518-6630 Korea, +82-2-2628-5770 Malaysia, +60-3-8076-8741 Mexico, +52 (442) 217-6235 Singapore, +65-6773-9488 Spain, +34 91 675 1292 Taiwan, +886-7-288-5168 United Kingdom, +44 (0) 115-964-0777

For more information, contact:

NA: Heather Rhodes, 314-628-4032, hrhodes@watlow.com

EUR: Nathalie Klak, +49-7253-9400-234, nklak@watlow.com

ASIA: Hazel Tan, +65-6773 9461, htan@watlow.com

More from Controls & Controllers