Production Machining for the Medical, Defense, and Aerospace Industries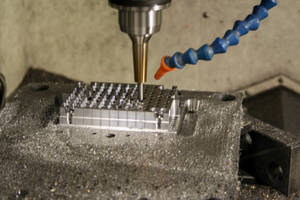 Precision. This is the most fundamentally critical element to the process of production. And in no industries is precision production machining more essential than in the medical/pharmaceutical, defense and aerospace industries. Indeed, the precise and exact dimensions of the final components utilized in these applications can mean the difference between life and death both in the surgical suite, on the front lines and soaring in the air.

In terms of medical application, production machining involves the precision production of items utilized in a wide range of medical instruments, surgical implants, and devices used for purposes of orthotics. Many of these components are extremely small, and because of their vital nature, the final products must be delivered right the first time. There is no room for trial and error in these applications.

To add to the complexity, production machining for medical, defense and aerospace industries often includes the machining of very small parts. The ability to produce these tiny end products with absolute precision is critical. In addition, a successful player in the production machining industry must also be able to deliver custom products expediently that are also of the highest quality. In custom machining, medical components are often specially designed. It is essential that the producer of these medical instruments is capable of not only delivering with the fidelity needed, but is also able to provide these highly customized production items. This same ability to deliver custom devices applies to the defense and aerospace industries as well. Versatility in production machinery is paramount.

The fact is, precision production machining for the medical, defense and aerospace industries is an increasingly complex and competitive industry. Speed, accuracy, and cost are all factors that weigh heavily on any buyer. And despite the fact that, across the board, manufacturing world is shifting more and more overseas, precision manufacturing for medical, defense and aerospace purposes is still done best in the United States, due to the ability of domestic producers to better control quality and to deliver far quicker thanks to proximity and ease of communication. However, companies that want to stay ahead of that curve need to be innovative and prepared to adapt when needed, adding new technologies to their manufacturing line as appropriate.

Crescent Industries is a market leader in precision production machining. Recent additions to the manufacturing floor include the Makino A61 3 Axis/2 Axis Machining Center, which will offer a wide range of solutions to meet the complex geometries and intricate tolerances in the industries of aerospace, defense and medicine. Another recent addition is a new Haas DS-30SSY Series Turning & Milling Center, which will take our screw machining to an even higher level of quality and precision. The refinement and synchronicity offered by this machine provides for less operator handling, and an increase in output and accuracy, resulting in incredibly precise end-products suitable for the defense, dental, medical, and aerospace industries among others.

For more information on Crescent Industries services and capabilities, please visit our website
http://www.crescentind.com/crescent-industries_capabilities.html or call 1-800-411-3844.


More from Electronic Components & Devices