Production Machining Cell loads/unloads medical device parts.
Press Release Summary: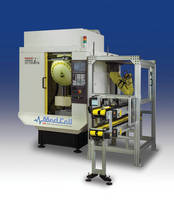 RoboDrill Med Cell, designed to automate loading/unloading of medical device parts, includes 5-axis FANUC RoboDrill Machining Center with 10,000 or 24,000 rpm spindle, torque to 56 lb-ft, and tapping to 5,000 rpm. FANUC 6-axis robot is also included. Macro chuck on unit enables different parts to be mounted on same universal chuck, while inbound and outbound conveyors and guarding receive macro chuck to support full automation. Unit handles any part that fits in its 6 in. vise or chuck.
---
Original Press Release:

New "Med Cell" from Methods Machine Tools Provides Cost-Effective 5-Axis Automation for Medical Machining



Sudbury, MA, U.S.A. - Methods Machine Tools Inc. today announced the release of the new RoboDrill Med Cell, a complete pre-engineered, fully-integrated production machining cell which automates loading and unloading of medical device parts. The reliable FANUC RoboDrill Machining Center is at the core of the system. The Med Cell has full 5-axis machining capability and is ideal for medical machining applications including short run production of parts in a variety of materials from stainless steel to titanium.

"Med Cell provides medical manufacturers with a cost-effective, lights-out automation solution to successfully compete in today's challenging economy," said Mr. Steve Bond, National Sales Manager, RoboDrill, RoboCut and EDM Products.

The attractively priced, compact Med Cell is designed for simple installation, fast setups and changeovers, operator safety and production flexibility. Featuring an integrated macro chuck, the Med Cell enables different parts to be mounted on the same universal chuck base for maximum versatility. The Med Cell is easily configured to handle virtually any part that will fit in its 6" vise or chuck. The workpiece is pallet mounted, ensuring that parts remain perfectly aligned when moved through other production operations. The Med Cell incorporates a compact, custom engineered drop trunnion rotary table that positions the table faceplate close to the RoboDrill table surface, providing increased rigidity and enhanced accuracy.

With a fully integrated FANUC 6-axis robot, the Med Cell automates loading / unloading and minimizes or eliminates a long list of production problems. The high-speed 6-axis FANUC LR Mate 200iC Robot comes complete with grippers, a teaching pendant, and several easily customizable programs. The package also includes fully-interfaced inbound and outbound conveyors and guarding that are customized to receive the integrated macro chuck, for full lights-out automation.

The heart of the Med Cell is the RoboDrill Vertical Machining Center which is designed for years of continuous, full 5-axis machining via powerful CAMplete software (optional) for today's exotic materials and designs. RoboDrill offers a 14-tool (or optional 21-tool) tool changer, 10,000 or 24,000 RPM spindle, torque to 56 ft-lbs, rigid tapping to 5,000 RPM (8,000 RPM optional), accelerations (in X, Y, and Z axes) to 1.5 G, rapid traverses to 2,125 IPM, feed rates to 1,181 IPM (2,362 IPM optional), high-speed reverse tapping, thread milling, 1,000 registerable programs, and 54 work offsets. In addition, the industry-standard FANUC 31i control is operator-friendly and easy to use. The Med Cell can also be modified for use in turning applications in conjunction with a Nakamura CNC lathe. An optional graphite machining package is also available, and a vision system can also be added to identify parts of differing sizes.

Methods Machine Tools, Inc. has been the leading supplier of precision machine tools and accessories for over 50 years, providing installation, parts, service and training through a network of technology centers and dealers throughout North America. Methods Machine Tools, Inc. is the exclusive North American source of sales, service, and training support for FANUC Vertical Machining Centers and Wire EDM Machines.

For more information, please contact Mr. Steve Bond, National Sales Manager, RoboDrill, RoboCut and EDM Products, 65 Union Avenue, Sudbury, MA 01776, TEL: (978) 443-5388, FAX: (978) 440-9405, Email: [email protected] or visit their website at www.methodsmachine.com.