LT-4123 Dielectric Test Cell is suitable for measuring the ability to store electrical energy in liquids.
Press Release Summary: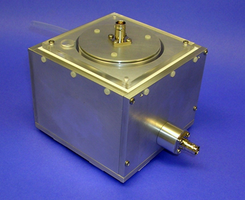 LT-4123 Dielectric Test Cell can be used to test the quality of composite materials, including transformer insulating oils and thermoset resins, and set quality benchmarks for fluids during testing and manufacturing. Unit measures AC loss characteristics and implements preferred guarded electrode (three terminal) measurement. Featuring a spout for excess liquids, product is encased in aluminum and has an overflow volume of 65 ml. LT-4123 Liquid Dielectric Test Cell is compatible with Lambient Technologies LT-451 Dielectric Cure Monitor and generic LCR meters.
---
Original Press Release:
PRODUCT ANNOUNCEMENT LT-4123 Liquid Dielectric Test Cell™
CAMBRIDGE, MA-Lambient Technologies LLC, the leader in analytical solutions for the curing of advanced polymer materials, announces the launch of the LT-4123 Liquid Dielectric Test Cell. The LT-4123 Dielectric Test Cell is designed for testing the quality of materials such as the insulating oils used in transformers and the resins used in the manufacture of thermosets. 
With the LT-4123 Liquid Dielectric Test Cell, users can measure the AC loss characteristics and permittivity of liquids. The data gleaned from these measurements are used to set quality benchmarks for fluids during testing and manufacturing. The LT-4123 Liquid Dielectric Test Cell may be used with either Lambient Technologies' LT-451 Dielectric Cure Monitor or with generic LCR meters. 
Lambient Technologies designs and produces instruments for real-time analysis of the curing of thermosets and advanced composite materials such as those used in aerospace, automotive, and wind power applications. Our products offer unique insights into how these materials react and change during curing, processing, and manufacturing. Armed with this critical data, users can proceed with research, quality testing, and final production, confident in the integrity of their processes and materials—and in the reliability of their finished products. 
For more information, contact us at:
Phone: 857-242-3963
E-mail: info@lambient.co
Lambient Technologies LLC
649 Massachusetts Avenue, Cambridge, MA 02139, USA
857-242- 3963
https://lambient.com
info@lambient.com
Related