Processor Socket enables PCI Express® signaling.
Press Release Summary: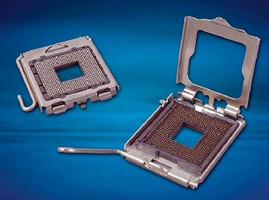 Lead-free, 775-position Model LGA775 enables use of microprocessors that support PCI Express signaling in desktop PCs. Utilizing BGA technology for motherboard attachment and LGA interface to microprocessor, socket performs with less than 4 nH inductance and less than 1 pF capacitance pin-to-pin. Pickup cover facilitates placement using pick-and-place equipment, while BGA termination allows socket assembly to self-center on PCB pads as well as self-level in z-axis direction.
---
Original Press Release:

FCI's LGA775 Processor Socket Enables PCI Express® Signaling



ETTERS, PA (March 14, 2006) FCI, a leading manufacturer of connectors and interconnect systems, has developed a lead-free, 775-position LGA775 Processor Socket to enable the use of microprocessors that support PCI Express signaling in desktop PCs. Utilizing FCI's patented BGA (Ball Grid Array) technology for motherboard attachment and an LGA (Land Grid Array) interface to the microprocessor, the LGA775 Processor socket performs as a low inductance device (<4 nH) with <1pF capacitance pin-to-pin to optimize the processor's high-speed electrical performance. A low normal force contact with wiping action produces consistent and reliable electrical performance.

A pre-installed pickup cover facilitates placement using conventional pick-and-place equipment while the use of BGA termination technology allows the socket assembly to self-center on the PCB pads as well as self-level in the z-axis direction. An integrated lever system actuates the socket when the chip has been seated properly. BGA technology also reduces cost of assembly in contract manufacturing.

"Our LGA775 socket is RoHS-compliant and compatible with lead-free processing temperatures," says Scott Kleinle, FCI Global Data Market Manager. "The socket has successfully met all qualifications required for use with industry leading processor chips."

Lead time for the LGA775 Processor Socket is typically two weeks. Pricing is below $4.00.

FCI also produces associated products such as SATA, ExpressCard, PCI Express Card Edge, DDRII memory sockets, and other standards-based connectors that are used in conjunction with the LGA775 Processor Socket. For more information on the LGA 775 Socket or associated connector products, contact FCI at 825 Old Trail Road, Etters, PA, 17319; call 800-237-2374, email electronics.us@fciconnect.com or visit FCI on the web at www.fciconnect.com.

About FCI
With operations in 30 countries and a turnover of 1.27 billion euros in 2005, FCI is a leading connector manufacturer. Its 13,000 employees are committed to providing their customers with high-quality and innovative products for a wide range of consumer and industrial applications.

For more information: www.fciconnect.com

Scott Kleinle, FCI Global Market Manager, 717-938-7509, scott.kleinle@fciconnect.com


More from Optics & Photonics