Processor ICs manage SIM data.
Press Release Summary: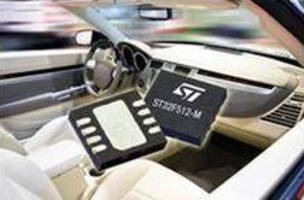 Dedicated to managing SIM data for machine-to-machine cellular communications, ST32-M ICs utilize ARM Cortex(TM)-M3 embedded-processor core. Units are available in 4 variants having Flash density of 256, 320, 416, or 512 KB. Integrated memory supports total data cycling of 500,000 cycles per page or 50 million cycles per sector. Housed in 6 x 5 mm DFN8 package, ICs operate from -40 to 105°C.
---
Original Press Release:

STMicroelectronics Raises Standards in Power Saving, Performance and Time-to-Market for Machine-to-Machine Cellular Connections



ST32-M ICs combine highly reliable Flash and advanced ARM® Cortex(TM)-M3 processing, with software compatibility with ST's proven ST32 SIM card IC family

Geneva, November 02,2009 - STMicroelectronics (NYSE: STM), a world leader in smart-card ICs, has announced a robust low-power processor chip dedicated to managing SIM data for machine-to-machine (M2M) cellular communications, a growing market that could account for over 200 million mobile connections by 2013, according to an August 2009 report by Beecham Research.

The ST32-M IC family combines the advantages of advanced non-proprietary processor architecture and high-density low-power embedded-Flash memory, enabling machines to connect to cellular networks and to authenticate themselves and communicate automatically. Applications that use M2M capabilities include the European eCall road-accident alert system, planned for launch in 2010, which allows vehicles to automatically inform rescue services of the location and details of an accident. Other M2M applications include automatic utility-meter reading; retail systems, such as replenishment monitoring for vending machines; security equipment; and asset-management systems.

To communicate with the cellular network, the ST32-M has the same capabilities and security features as the company's existing ST32 smart-card processor, which is used in cellphone SIM cards worldwide. The ST32-M is designed explicitly for M2M applications, with a wider temperature range (-40°C to 105°C) allowing M2M equipment to function in harsh environments. The chip also supports many more data-writing cycles than the standard SIM controller, enabling continuous operation over an extended lifetime. It will also store data reliably for more than 10 years.

Like ST's ST32 family, the ST32-M uses the industry-standard ARM Cortex(TM)-M3 embedded-processor core. This allows developers to benefit from the latest-generation processor technology offering high performance and low power, and to re-use existing ST32 software and design tools for faster time to market. In addition, taking advantage of embedded Flash technology, the ST32-M family delivers a very high level of flexibility and improved time-to-market to card manufacturers. The ST32-M family is available in four variants having Flash density of 256 Kbytes, 320 Kbytes, 416 Kbytes or 512 Kbytes. The integrated memory supports total data cycling of 500,000 cycles per page or 50 million cycles per sector.

"The ST32-M family complements the ST32 range, targeting classical Java SIM card ICs, and the ST33 family, for the highly secure SIM card market," said Laurent Degauque, Telecom and NFC marketing manager, Digital Secure Access (DSA) Division, STMicroelectronics. "These three families have 90nm embedded Flash technology and the ARM Cortex(TM)-M3/SC300 core in common, and therefore provide customers with the ability to leverage Java OS development across a wide range of applications. In addition, the extended Flash cycling capabilities of the ST32-M family, when combined with application-specific software development, will allow Mobile Network Operators to achieve multi-million data cycles in harsh environments."

ST is sampling the first ST32-M devices in Q4 2009 and mass production in the DFN8 6 x 5mm package is expected to begin in Q1 2010.

About STMicroelectronics

STMicroelectronics is a global leader serving customers across the spectrum of electronics applications with innovative semiconductor solutions. ST aims to be the undisputed leader in multimedia convergence and power applications leveraging its vast array of technologies, design expertise and combination of intellectual property portfolio, strategic partnerships and manufacturing strength. In 2008, the Company's net revenues were $9.84 billion. Further information on ST can be found at www.st.com.
Information last updated Jun 2009

More from Software