Processing System emulsifies, blends, and homogenizes.
Press Release Summary: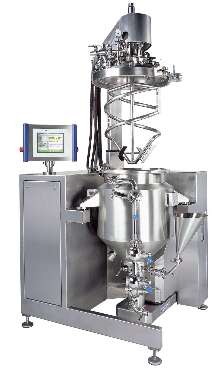 Master Plant(TM) consists of complete processing system for pharmaceutical and cosmetic applications, including vessel, piping, valves, controls, and 2 mixers. Integral spiral agitator and high-shear mixing unit, capable of handling viscosities from 1-100,000+ cps, combine to provide complete mixing, homogenization or dispersion, product transfer, and system cleaning. Available with capacities from 2.5-1,000 gal, system features scrapers and reversible operation.
---
Original Press Release:

IKA® Introduces All-In-One Master Plant(TM) Turn-Key System For Blending, Emulsifying, Homogenizing


Wilmington, NC - IKA Work's Master Plant(TM), the newest and most advanced product in its turn-key Plant Series, is a complete processing system including vessel, piping, valves, controls and two revolutionary mixers. It is designed to emulsify, homogenize or blend virtually any materials.

Typical applications for the Master Plant are in the pharmaceutical and cosmetic industries, including the production of wax emulsions, creams, lotions, ointments, make-up, toothpaste, soaps and injectionables. Capacities range from 2.5 to 1000 gallons.

The Master Plant's unique design eliminates the need for additional equipment such as circulating pumps and transfer pumps. Two components in the system -- an integral spiral agitator and a high shear mixing unit -- combine to provide complete mixing, homogenization or dispersion, plus product transfer and system cleaning.

The system's spiral agitator and mixing unit are both capable of handling viscosities from 1 cps to more than 100,000 cps. The agitator and vessel jacket can be heated or cooled improving heat transfer by up to 20%. It also includes scrapers that provide excellent circulation in the vessel and improve heat transfer efficiency with sticky or highly viscous products. Reversible operation helps optimize mixing throughout the process. Solids or liquids can be added directly into the IKA 2000 Series DB mixer for high or low shear mixing with no lumps or agglomerates. Even minor additives are completely and efficiently dispersed. The mixer's powerful pumping stage is all that is needed to transfer the product and replaces a separate CIP pump. Both the agitator and the mixer are suitable for CIP and SIP cleaning. The mixer's modular design offers users maximum flexibility. Various mixing and dispersing tools can be easily interchanged.

Established in 1910, with worldwide manufacturing and support facilities, IKA Works has continually grown to serve an increasing demand for mixing solutions. IKA manufactures in-line and batch mixers, as well as mill products with unique applications in the chemical, pharmaceutical, petroleum, and food industries. For more information contact IKA Works at 800-733-3037; Fax: 910-452-7693; E-mail IKA at process@ikausa.com, or visit our website at www.ikausa.com.

More from Explosives, Armaments, and Weaponry