Process Pump handles difficult fluids.
Press Release Summary: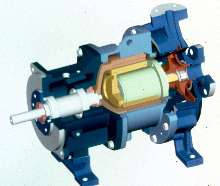 Magnetic-drive, sealless Model 3296 EZMAG(TM) handles corrosives, pollutants, ultra-pure liquids, and toxics. Seamless, deep-drawn Hastelloy containment shell seals liquid from environment and has integral anti-vortex vane, which helps prevent erosion. Product utilizes SAFEGLIDE(TM) silicon carbide bearings housed in bearing cartridge, which protects pump in event of bearing failure. Unit handles flows to 750 gpm, heads to 520 ft at 3,500 rpm, and pressures up to 275 psi.
---
Original Press Release:

Goulds Pumps Introduces New Magnetic Drive Process pump


Seneca Falls, New York, USA, March 1, 2003 - Goulds Pumps, one of the fluid businesses of ITT Industries, has developed a new ANSI magnetic drive process pump. Designated the Model 3296 EZMAG(TM), this new sealless pump is an expansion of the highly successful ISO metallic drive pump introduced recently. The 3296 EZMAG is specifically designed to handle difficult fluids such as corrosives, pollutants, ultra pure liquids and toxics. The new pump eliminates the risks of leakage normally associated with conventionally sealed pumps.

Applications for the 3296 EZMAG are numerous in the chemical process industry, including pharmaceuticals, specialty chemicals and agricultural chemicals. Additional applications can be found in general industry, environmental protection, water treatment, food processing and automotive plants.

Total Containment

The 3296 EZMAG features SAFEGLIDE(TM) silicon carbide bearings for dry run protection. The bearings are housed in a bearing cartridge which protects the pump in the event of a bearing failure. The bearings remain in the cartridge, preventing damage to other liquid end components especially the containment shell, which seals liquid from the environment. During inspection or maintenance, this bearing cartridge also eliminates the need to inspect or install several individual bearings. Another feature of the 3296 EZMAG is the seamless, deep-drawn Hastelloy containment shell with integral anti-vortex vane, which helps prevent the possibility of erosion. The containment shell is one piece with no welded joints.

The Goulds Model 3296 EZMAG is capable of handling flows up to 750 GPM (170m³/hr) and heads tip to 520 feet (158m) at 3,500 rpm. Operating temperatures range from -40° F to 535 °F (-40° C to 280° C). It can handle pressures up to 275 psi.

Goulds Pumps is a division of ITT Industries' Industrial Products Group. ITT Industries, inc. (www.itt.com) supplies advanced technology products and services in key markets including: electronic interconnects and switches; defense communication, opto-electronics, information technology and services; fluid and water management and other specialty products. Headquartered in White Plains, NY, the company generated $4.99 billion in 2002 sales. In addition to the New York Stock Exchange, ITT Industries stock is traded on the Midwest, Pacific, London, Paris and Frankfurt exchanges.

For additional information on the new 3296 EZMAG pump contact Goulds Pumps, 240 Fall Street, Seneca Falls, NY 13148 or call 1-800-734-PUMP or visit www.gouldspumps.com.

More from Packaging Products & Equipment