Process Gas Analysers com in cross-stack, extractive versions.
Press Release Summary: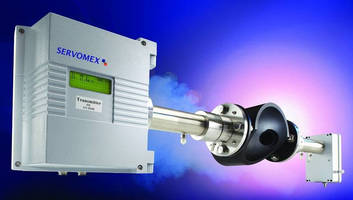 Featuring Tuneable Diode Laser (TDL) technology, SERVOTOUGH Laser series measures gases present in extreme or harsh process conditions. TDL technology minimizes response time and sample conditioning requirements while promoting stable performance without any moving parts or consumables. Series consists of Standard monitor for cross stack (in-situ) applications; compact variant for extractive and in-situ use; and MultiPass version for extractive trace analysis applications.
---
Original Press Release:

Servomex Americas Announces the US Launch of the SERVOTOUGH Laser Gas Monitor Range



Houston, USA - Servomex is pleased to announce US launch of the SERVOTOUGH Laser series, a range of high performance process gas analysers designed for the in-situ measurement of a wide range of gases present in extreme or harsh process conditions. Available as both cross-stack (in-situ) or extractive configurations, the SERVOTOUGH Laser range features extensively field proven Tuneable Diode Laser (TDL) technology, robustly packaged to cope with the most aggressive environments.

The SERVOTOUGH Laser uses TDL technology to deliver a fast response time, highly stable performance and minimum sample conditioning requirements with no moving parts and consumables. It is available to detect a wide range of gases including O2, HCl, HF, NH3, CO, CO2, H2O, H2S, HCN, NO, N2O, CH4 and other hydrocarbons, the Laser series is effective for a wide range of emissions control and process and combustion control applications.

The Laser range consists of three modules: A Standard monitor designed for cross stack applications; a Compact variant suitable for extractive and in-situ use across smaller diameter (< 30 in) path length applications; and a MultiPass version designed for extractive trace analysis applications. All versions have been granted Class1 Div2 CSA approvals.

The launch of the SERVOTOUGH Laser range is the culmination of a strategic technology agreement between Servomex and Norsk Elektro Optikk (NEO). The agreement enables Servomex to develop and manufacture TDL analyzer products, based on NEO core technology. The SERVOTOUGH Laser will be supplied globally by Servomex and will form an integral part of its highly respected range of process gas analysers and engineered system solutions.

Servomex will maintain support for all current NEO LaserGas2 requirements including quotations and field trials, and maintain a supply of NEO-manufactured spares and field service for the existing US install base of NEO LaserGas I and LaserGas II products.

"The wide range of benefits of the SERVOTOUGH Laser range gives customers a measurable advantage for their applications and processes," says Chuck Hurley, General Manager, Servomex Americas. "Our knowledge and experience in TDLS process applications, combined with our gas analysis expertise and extensive service and support capabilities, makes us the preeminent supplier of TDLS technologies to the US market."

For more information about the SERVOTOUGH Laser range, visit www.combustion-expert.com

Servomex Group Ltd
As the world expert in gas analysis, Servomex has established itself as the leading provider of reliable, accurate and stable gas measurement solutions to industries across the globe.

An acknowledged innovator in gas analysis technologies for more than 50 years, Servomex is the originator of and world leader in paramagnetic sensing technology and has an exceptional reputation in the development of zirconia, laser (TDL), gas chromatography, FID, coulometric, photometric and thick film technologies. With a leading edge in R&D and manufacturing maintained by two Technical Centres based in Crowborough, UK and Boston, Massachusetts, the result is high-performance, cost-effective gas analysis, delivered through a portfolio of dependable products ranging from portable gas analyzers to complex process solutions.

Servomex's commitment to providing a complete industry solution to gas analysis extends across our business, with our Hummingbird Sensing Technology brand delivering our sensor technology to OEM partners and the recently-acquired Delta F Corporation extending our product offering through high quality oxygen and moisture analysis technologies.

Servomex is committed to providing excellence in customer service, offering full sales and service support through global business centres based in Houston, Texas; Zoetermeer, Netherlands; Shanghai, China; São Paulo, Brazil; and Mumbai, India. By combining global expertise with local support, Servomex delivers a complete package of product and service that ensures customers improve output quality, maintain plant and process safety and meet legislative requirements.

Servomex is part of Spectris plc, a leading supplier of instrumentation and controls to global markets.

More from Materials