Probylas: Laser Welding Machine "Turnkey M"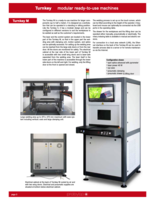 After the small compact laser welding machine "Turnkey S", the larger workstation "Turnkey M" is available from Probylas since the beginning of 2020. It is also based on a modular framework so that it can be configured to suit the work pieces and the customer's requirements without the need for expensive special machine building.
The "Turnkey M" can be equipped for contour processes and for quasi-simultaneous process. With axes for contour process a welding area of 500 mm × 400 mm can be covered and, if necessary, with an optional z-axis another 200 mm vertically. For cylindrical parts, an additional rotary axis can be installed for welding on the circumference. The scanner for a quasi-simultaneous process type can track a maximal welding area of up to 350 mm × 350 mm.
Depending on the welding process, work pieces and plastic material, different laser types and laser powers can be selected. The lasers are located space-saving in the lower part of the housing of the "Turnkey M". In most cases, diode lasers with outputs between 40 and 200 W are used, but for large scanning fields with nevertheless fine welding seams, fiber lasers can be employed as well.
For the feeding of the work-pieces into the "Turnkey M" a drawer can be selected or, for higher productivity, a rotary indexing table. The large turntable with a diameter of 650 mm can also host larger work pieces. Due to the large doors on the sides and from the rear, the welding area is also easily accessible for setup work or maintenance.
The user interface is displayed on a large 22-inch touch screen, which can be tilted at different angles depending on the operator. An Ethernet connection is available for integration into a local area network or for connection to the Internet for remote assistance.
Related