Probe provides BOD analysis.
Press Release Summary: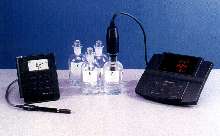 Dissolved Oxygen AUTO-STIR Probe works with Model 862A DO/BOD/Temperature Meter. Built-in stirrer provides vigorous sample agitation preventing oxygen stratification. Free standing probe stand functions as air calibration beaker and can store probe when not in use. Probe includes one-touch control, dual automatic temperature compensation, and low maintenance polarographic design.
---
Original Press Release:

Thermo Orion Introduces the New DO AUTO-STIR(TM) PROBE


BEVERLY, Mass. (February 5, 2003) - Thermo Orion, a Thermo Electron business (NYSE:TMO) and leader in the development and manufacturing of chemical measurement product lines, introduces a new Dissolved Oxygen AUTO-STIR Probe.

This DO probe is designed for fast and easy BOD analysis with the Thermo Orion 862A DO/BOD/Temperature Meter. The built-in stirrer provides vigorous sample agitation, preventing oxygen stratification and can easily be disassembled for cleaning. The probe stand, which is free standing, can be used to store the probe when not in use, and also functions as an air calibration beaker.

Additional product features include an Ergonomic One-Touch Control, Dual Automatic Temperature Compensation and a Low Maintenance polarographic design. Thermo Orion also offers electrolyte solution, a polishing disk and membrane caps, which may be purchased individually or together as a probe maintenance kit.

Thermo Orion is an ISO 9001-registered manufacturer of quality chemical measurement products. Thermo Orion's line of products includes pH, ion selective electrode (ISE), colorimeters, conductivity and dissolved oxygen meter, electrodes, accessories, and solutions. Thermo Orion also offers a complete line of syringe pumps, microbalances, titrators and Pure Water(TM) online process monitors. Most recently, the company expanded its already extensive product offering to include a complete line of liquid-handling systems, autosampler, the award-winning EZ-Flash® gas chromatography accessory, and the TEA Analyzer® detector for HPLC and GC. These systems prove that Thermo Orion is committed to providing the best instrumentation for a wide array of laboratory analyses.

About Thermo Electron Corporation:
Thermo Electron Corporation provides scientific instruments, equipment, software, and solutions that help laboratory and industrial customers advance scientific knowledge, enable drug discovery, improve manufacturing processes, and protect people and the environment. With annual revenue exceeding $2 billion, Thermo is a global leader employing 11,0000 people in 30 countries worldwide. The company is based in Waltham, Massachusetts.

More from Electronic Components & Devices